LISBON AIRPORT (LIS) INFORMATION
Origin
Airline
Flight no.
Scheduled
Est./Actual
Status
No flight arrivals were found at Lisbon Airport.
Destination
Airline
Flight no.
Scheduled
Est./Actual
Status
No flight departures were found at Lisbon Airport.
Car Hire at Lisbon Airport
UNBEATABLE VALUE CAR RENTAL
Free Amendments | Free Cancellations | No Card Fees




Lisbon Airport - All Information on Lisbon International Airport (LIS) Lisbon Airport
Alameda das Comunidades Portuguesas, 1700-111, Lisboa
phone +351 218 413 500
phone+351 218 444 530 (Lost + Found)
emaillisbon.airport@ana.pt
emailalspsp@ana.pt (Lost+Found)
call_end+351 218 413 675 (fax)
Facts and History about Lisbon Airport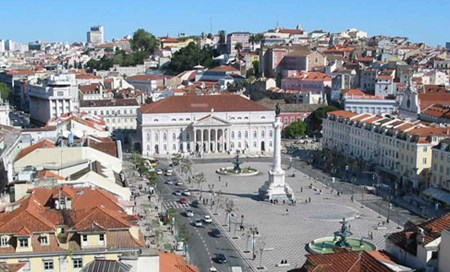 Lisbon Airport is located just 7 km or 4.3 miles distance north of Lisbon, Portugal's most visited city and one of Europe's most vibrant tourist destinations.
Lisbon Portela serves as a gateway into the country and is a major European hub, being one of the largest airports in the South of Europe and the main base-hub for TAP Portugal, the country's flagship airline.
Also used as a hub for budget airlines such as Luzair, EasyJet, Hi Fly, SATA International, White Airways, Portugalia and EuroAtlantic Airways, the Portuguese capital's international airport is managed by ANA, the Aeroportos de Portugal state-owned airport authority.
The airport has two runways and two passenger terminals plus a military terminal, a metro train station linking the airport with the city center in under 25 minutes, and offers world-wide routes to Dublin and Cork in Ireland, Toronto in Canada, Brussels in Belgium, Bucharest in Romania, London in the United Kingdom, Venice and Turin in Italy, Frankfurt and Berlin In Germany, Paris in France and Madrid in Spain among many other destinations.
Passengers leaving from Lisbon Airport can use airlines like Aer Lingus, Aero VIP, Air Europa, Air France, British Airways and Brussels Airlines, Emirates and Germanwings, Iberia and Norwegian Air Shuttle, Royal Air Maroc, Swiss International Air Lines and Sunwing Airlines among many others and naturally, the above mentioned airlines for which Portela Airport serves as a hub.
Last year (2018) the airport handled 29 million passengers up from 26.6 million, some 8.9%. With excellent transport options via trains, buses and coaches, it is possible to tour the country quite easily and see the Algarve and hop across the border into Spain. Nearby cities like Cascais, Estoril and Sintra are also within easy reach.
Arrivals, Departures and Airlines at Lisbon Airport
New metro line stations (red line) Moscavide, Encarnação and Aeroporto allow passengers to reach the airport in just 16 minutes from city center locations like Sandanha, where the main administrative district is located. A ticket costs just EUR 1.25 per person with a Viva Viagem pass, which can be bought in advance for just EUR 0.50.
Various coach and bus services also link the airport with the city as well as connecting the airport with other European cities. Carris Coaches no. 705 travels between Est. do Oriente to the airport and then onward to Est. Roma/Areeiro, but only on weekdays. Bus line Marquês Pombal-Lisbon Airport-Moscavide runs every day. Bus tickets can be bought from the driver for just EUR 1.75 per person for a one-way trip.
The Aerobus provides three different lines, namely Linha 1, Linha 2 and Linha 3, which cover the city center, Oriente train station and the Financial Center districts of Lisbon, running every 30 minutes. A taxi rank is located just outside the terminals.
Lisbon Airport car hire companies such as Auto-Jardim, Avis, Budget, Europcar, Goldcar, Guerin and Hertz have car rental counters in the arrivals hall. The first car hire provider opens for service at 6.00 am and the last rental desk closes for business at 1.00, while the others open at 7.00 am and close at midnight.
Check-in requirements are 90 minutes prior to departure for Schengen flights and 120 minutes for Non-Schengen flights within Europe, while intercontinental flights require passengers to check-in at least 180 minutes prior to departure. Most airlines operating out of Lisbon Airport allow passengers to check-in online and then presented their printed off boarding card at the airport check-in desk, when handing over the baggage. Baggage can be checked in at both T1 and T2 terminals and there are also self-check-in machines for passengers in the check-in halls and in Park 2 car parking facility.
For air travelers with a little time at their hands before onward travel there are plenty of shops, cafes and restaurants to divert them for a while. A beauty salon and hairdressers, an Accessorize Shops, a Chocolate Lounge and various fashion outlets like Burberry and a Betrend Store provide last minute gift ideas, while snack bars like Buondi Café and Air Tasty offer refreshments for the smaller appetite. Clocks, Cockpit Drink and Tapas, Expresso Café Sushi and First Café offer local and international cuisine at affordable prices.
Parking at Lisbon Airport
See options for parking services at Lisbon Airport.
Hotels near Lisbon Airport
There are a number of hotels to suit all budgets and requirements at or near Lisbon Airport.
Things to do in Lisbon City
There are a number of activities to suit all ages and interests in the region - see a selection of tourist activities in Lisbon City, Portugal.
Services at Lisbon Airport
Useful Information about Lisbon Airport