Flights, Arrivals & Departures at Lisbon Airport
Origin
Airline
Flight no.
Scheduled
Est./Actual
Status
Warsaw (WAW)
Wizz Air
W61593
00:25
02:51
Landed
Ponta Delgada (PDL)
Azores Airlines
S4128 expand_more(1)
01:05
00:41
Landed
Ponta Delgada (PDL)
TAP Air Portugal
TP6626
01:05
00:41
Landed
Boston (BOS)
TAP Air Portugal
TP218
05:20
05:03
Landed
Rio De Janeiro (GIG)
TAP Air Portugal
TP74 expand_more(3)
05:20
04:41
Landed
Rio De Janeiro (GIG)
Azul Linhas Aereas
AD7278
05:20
04:41
Landed
Rio De Janeiro (GIG)
Capital Airlines
JD5429
05:20
04:41
Landed
Rio De Janeiro (GIG)
Emirates
EK4813
05:20
04:41
Landed
Sao Paulo (GRU)
TAP Air Portugal
TP82 expand_more(2)
05:20
04:52
Landed
Sao Paulo (GRU)
Azul Linhas Aereas
AD7214
05:20
04:52
Landed
Sao Paulo (GRU)
Capital Airlines
JD5432
05:20
04:52
Landed
Newark (EWR)
TAP Air Portugal
TP202 expand_more(1)
05:30
05:32
Landed
Newark (EWR)
Air Canada
AC2704
05:30
05:32
Landed
Miami (MIA)
TAP Air Portugal
TP224
05:45
05:36
Landed
Funchal (FNC)
TAP Air Portugal
TP1690 expand_more(8)
06:00
Scheduled
Funchal (FNC)
Azores Airlines
S48016
06:00
Scheduled
Funchal (FNC)
Azul Linhas Aereas
AD7281
06:00
Scheduled
Funchal (FNC)
Emirates
EK4776
06:00
Scheduled
Funchal (FNC)
LOT
LO4776
06:00
Scheduled
Funchal (FNC)
Lufthansa
LH6963
06:00
Scheduled
Funchal (FNC)
Luxair
LG1978
06:00
Scheduled
Funchal (FNC)
Turkish Airlines
TK8103
06:00
Scheduled
Funchal (FNC)
United Airlines
UA6877
06:00
Scheduled
Dakar Blaise (DSS)
SmartLynx
TP1480 expand_more(1)
06:05
Scheduled
Dakar Blaise (DSS)
Air Canada
AC2642
06:05
Scheduled
Sal (SID)
TAP Air Portugal
TP1548 expand_more(2)
06:05
Scheduled
Sal (SID)
Emirates
EK4829
06:05
Scheduled
Sal (SID)
Turkish Airlines
TK8139
06:05
Scheduled
Sao Tome Is (TMS)
TAP Air Portugal
TP1532
06:10
Scheduled
Tangier (TNG)
TAP Express
TP1459 expand_more(1)
06:10
Scheduled
Tangier (TNG)
Azores Airlines
S48507
06:10
Scheduled
Porto (OPO)
TAP Air Portugal
TP1945 expand_more(5)
06:10
Scheduled
Porto (OPO)
Azores Airlines
S48006
06:10
Scheduled
Porto (OPO)
Azul Linhas Aereas
AD7319
06:10
Scheduled
Porto (OPO)
LOT
LO4772
06:10
Scheduled
Porto (OPO)
Lufthansa
LH6945
06:10
Scheduled
Porto (OPO)
United Airlines
UA6857
06:10
Scheduled
Brasília (BSB)
TAP Air Portugal
TP58 expand_more(3)
06:15
Delayed
Brasília (BSB)
Azul Linhas Aereas
AD7202
06:15
Delayed
Brasília (BSB)
Capital Airlines
JD5421
06:15
Delayed
Brasília (BSB)
Emirates
EK4803
06:15
Delayed
Praia (RAI)
TAP Air Portugal
TP1542 expand_more(1)
06:15
Scheduled
Praia (RAI)
Turkish Airlines
TK8136
06:15
Scheduled
Belo Horizonte (CNF)
TAP Air Portugal
TP104 expand_more(3)
06:20
Scheduled
Belo Horizonte (CNF)
Azul Linhas Aereas
AD7254
06:20
Scheduled
Belo Horizonte (CNF)
Capital Airlines
JD5424
06:20
Scheduled
Belo Horizonte (CNF)
Emirates
EK4807
06:20
Scheduled
Vitoria. (VIT)
Cargo Air
QY8325
06:28
Scheduled
Sevilla (SVQ)
TAP Express
TP1101 expand_more(2)
06:30
Scheduled
Sevilla (SVQ)
Azores Airlines
S48745
06:30
Scheduled
Sevilla (SVQ)
Azul Linhas Aereas
AD7347
06:30
Scheduled
Montreal (YUL)
Air Transat
TS680 expand_more(1)
06:30
Scheduled
Montreal (YUL)
Porter Airlines Canada
PD7680
06:30
Scheduled
Faro (FAO)
TAP Air Portugal
TP1900 expand_more(8)
06:50
Scheduled
Faro (FAO)
Air Canada
AC2707
06:50
Scheduled
Faro (FAO)
Azores Airlines
S48420
06:50
Scheduled
Faro (FAO)
Azul Linhas Aereas
AD7271
06:50
Scheduled
Faro (FAO)
Emirates
EK4788
06:50
Scheduled
Faro (FAO)
Lufthansa
LH6973
06:50
Scheduled
Faro (FAO)
Luxair
LG1974
06:50
Scheduled
Faro (FAO)
Turkish Airlines
TK8111
06:50
Scheduled
Faro (FAO)
United Airlines
UA6868
06:50
Scheduled
Madrid (MAD)
Air Europa
UX1159 expand_more(2)
06:50
Scheduled
Madrid (MAD)
Aeromexico
AM6898
06:50
Scheduled
Madrid (MAD)
Azul Linhas Aereas
AD7855
06:50
Scheduled
Paris (CDG)
ASL Airlines
3V4437
06:51
Scheduled
Barcelona (BCN)
TAP Air Portugal
TP1039 expand_more(5)
06:55
Scheduled
Barcelona (BCN)
Aegean Airlines
A31761
06:55
Scheduled
Barcelona (BCN)
Air Canada
AC2713
06:55
Scheduled
Barcelona (BCN)
Azores Airlines
S48735
06:55
Scheduled
Barcelona (BCN)
Azul Linhas Aereas
AD7243
06:55
Scheduled
Barcelona (BCN)
United Airlines
UA6871
06:55
Scheduled
Campinas (VCP)
Azul
AD8750 expand_more(1)
07:00
Scheduled
Campinas (VCP)
TAP Air Portugal
TP5000
07:00
Scheduled
Teterboro (TEB)
Global Air Charters
GJE212
07:02
Scheduled
Porto (OPO)
Maersk Air Cargo
DJ6646
07:05
Scheduled
Luanda (LAD)
TAAG Angola Airlines
DT650 expand_more(1)
07:10
06:59
Landed
Luanda (LAD)
Iberia
IB1450
07:10
06:59
Landed
Sao Paulo (GRU)
LATAM Airlines
LA8146
07:15
Scheduled
Caracas (CCS)
TAP Air Portugal
TP172
07:25
Scheduled
Abu Dhabi (AUH)
Etihad Airways
EY63
07:30
Scheduled
Paris (ORY)
TAP Air Portugal
TP447 expand_more(2)
07:30
Scheduled
Paris (ORY)
Azores Airlines
S48933
07:30
Scheduled
Paris (ORY)
Azul Linhas Aereas
AD7201
07:30
Scheduled
Geneva (GVA)
TAP Air Portugal
TP949 expand_more(3)
07:40
Scheduled
Geneva (GVA)
Azores Airlines
S48354
07:40
Scheduled
Geneva (GVA)
Azul Linhas Aereas
AD7501
07:40
Scheduled
Geneva (GVA)
Swiss
LX4594
07:40
Scheduled
Funchal (FNC)
TAP Air Portugal
TP1684 expand_more(6)
07:40
Scheduled
Funchal (FNC)
Air Canada
AC2671
07:40
Scheduled
Funchal (FNC)
Azores Airlines
S48028
07:40
Scheduled
Funchal (FNC)
Azul Linhas Aereas
AD7285
07:40
Scheduled
Funchal (FNC)
Emirates
EK4778
07:40
Scheduled
Funchal (FNC)
Lufthansa
LH6955
07:40
Scheduled
Funchal (FNC)
United Airlines
UA6859
07:40
Scheduled
Madrid (MAD)
Iberia
IB3108 expand_more(4)
07:45
Scheduled
Madrid (MAD)
American Airlines
AA8743
07:45
Scheduled
Madrid (MAD)
LATAM Airlines
LA7178
07:45
Scheduled
Madrid (MAD)
Qatar Airways
QR6917
07:45
Scheduled
Madrid (MAD)
Vueling
VY5069
07:45
Scheduled
Milan (MXP)
TAP Air Portugal
TP821 expand_more(3)
07:45
Scheduled
Milan (MXP)
Azores Airlines
S48909
07:45
Scheduled
Milan (MXP)
Azul Linhas Aereas
AD7343
07:45
Scheduled
Milan (MXP)
ITA Airways
AZ7530
07:45
Scheduled
Brussels (BRU)
TAP Air Portugal
TP641 expand_more(2)
07:50
Scheduled
Brussels (BRU)
Azores Airlines
S48481
07:50
Scheduled
Brussels (BRU)
Brussels Airlines
SN6401
07:50
Scheduled
Mulhouse basel (BSL)
easyJet
U21271
08:00
Delayed
New York (JFK)
Delta Air Lines
DL272 expand_more(3)
08:00
Scheduled
New York (JFK)
Air France
AF3661
08:00
Scheduled
New York (JFK)
KLM
KL6091
08:00
Scheduled
New York (JFK)
Virgin Atlantic
VS3895
08:00
Scheduled
Madrid (MAD)
TAP Air Portugal
TP1023 expand_more(4)
08:00
Scheduled
Madrid (MAD)
Air Canada
AC2675
08:00
Scheduled
Madrid (MAD)
Azores Airlines
S48709
08:00
Scheduled
Madrid (MAD)
Azul Linhas Aereas
AD7330
08:00
Scheduled
Madrid (MAD)
United Airlines
UA6886
08:00
Scheduled
Porto (OPO)
TAP Express
TP1947 expand_more(3)
08:00
Scheduled
Porto (OPO)
Azores Airlines
S48037
08:00
Scheduled
Porto (OPO)
Azul Linhas Aereas
AD7315
08:00
Scheduled
Porto (OPO)
United Airlines
UA6858
08:00
Scheduled
Paris (ORY)
Vueling
VY1983 expand_more(1)
08:05
Scheduled
Paris (ORY)
Iberia
IB5952
08:05
Scheduled
Rome (FCO)
TAP Air Portugal
TP837 expand_more(4)
08:10
07:58
Landed
Rome (FCO)
Azores Airlines
S48907
08:10
07:58
Landed
Rome (FCO)
Azul Linhas Aereas
AD7274
08:10
07:58
Landed
Rome (FCO)
Ethiopian Airlines
ET1744
08:10
07:58
Landed
Rome (FCO)
ITA Airways
AZ7760
08:10
07:58
Landed
Frankfurt (FRA)
TAP Air Portugal
TP571 expand_more(3)
08:15
Delayed
Frankfurt (FRA)
Azores Airlines
S48765
08:15
Delayed
Frankfurt (FRA)
Azul Linhas Aereas
AD7213
08:15
Delayed
Frankfurt (FRA)
Lufthansa
LH6954
08:15
Delayed
Geneva (GVA)
easyJet
U21461
08:15
Scheduled
Higuey (PUJ)
World2Fly
3P3154
08:15
Delayed
Zurich (ZRH)
TAP Air Portugal
TP929 expand_more(3)
08:15
Delayed
Zurich (ZRH)
Azores Airlines
S48791
08:15
Delayed
Zurich (ZRH)
Azul Linhas Aereas
AD7515
08:15
Delayed
Zurich (ZRH)
Swiss
LX4590
08:15
Delayed
Newark (EWR)
United Airlines
UA64 expand_more(3)
08:20
Scheduled
Newark (EWR)
Air Canada
AC3727
08:20
Scheduled
Newark (EWR)
Brussels Airlines
SN9025
08:20
Scheduled
Newark (EWR)
Lufthansa
LH7966
08:20
Scheduled
Munich (MUC)
TAP Air Portugal
TP553 expand_more(3)
08:25
Delayed
Munich (MUC)
Azores Airlines
S48773
08:25
Delayed
Munich (MUC)
Azul Linhas Aereas
AD7328
08:25
Delayed
Munich (MUC)
Lufthansa
LH6984
08:25
Delayed
Barcelona (BCN)
Vueling
VY8460 expand_more(1)
08:30
Scheduled
Barcelona (BCN)
Iberia
IB5690
08:30
Scheduled
Amsterdam (AMS)
Transavia
HV5953 expand_more(1)
08:40
Delayed
Amsterdam (AMS)
Delta Air Lines
DL7509
08:40
Delayed
London (LHR)
TAP Air Portugal
TP1363 expand_more(4)
08:40
Delayed
London (LHR)
Air Canada
AC2686
08:40
Delayed
London (LHR)
Azores Airlines
S48050
08:40
Delayed
London (LHR)
Azul Linhas Aereas
AD7232
08:40
Delayed
London (LHR)
United Airlines
UA6864
08:40
Delayed
Higuey (PUJ)
Iberojet
6O852
08:45
Delayed
Paris (CDG)
Air France
AF1224 expand_more(2)
08:50
Delayed
Paris (CDG)
Azores Airlines
S47307
08:50
Delayed
Paris (CDG)
Delta Air Lines
DL8444
08:50
Delayed
Rome (CIA)
Ryanair
FR1321
08:55
Delayed
Eindhoven (EIN)
Avion Express
HV6203
08:55
Delayed
Paris (ORY)
Transavia
TO7640
08:55
Scheduled
Amsterdam (AMS)
TAP Air Portugal
TP669 expand_more(3)
09:05
Delayed
Amsterdam (AMS)
Azores Airlines
S48649
09:05
Delayed
Amsterdam (AMS)
Azul Linhas Aereas
AD7230
09:05
Delayed
Amsterdam (AMS)
United Airlines
UA6856
09:05
Delayed
Philadelphia (PHL)
American Airlines
AA258 expand_more(3)
09:05
08:41
Landed
Philadelphia (PHL)
British Airways
BA1572
09:05
08:41
Landed
Philadelphia (PHL)
Finnair
AY4146
09:05
08:41
Landed
Philadelphia (PHL)
Iberia
IB4918
09:05
08:41
Landed
Bergamo (BGY)
Ryanair
FR820
09:10
Delayed
Paris (ORY)
TAP Air Portugal
TP443 expand_more(2)
09:10
Scheduled
Paris (ORY)
Azores Airlines
S48913
09:10
Scheduled
Paris (ORY)
Azul Linhas Aereas
AD7506
09:10
Scheduled
Tel Aviv Yafo (TLV)
TAP Air Portugal
TP1604 expand_more(1)
09:10
08:45
Landed
Tel Aviv Yafo (TLV)
El Al
LY9109
09:10
08:45
Landed
Brussels (BRU)
Air Charters Europe
AGR1521
09:14
Scheduled
Edinburgh (EDI)
easyJet
U23321
09:20
Delayed
Montreal (YUL)
Air Canada
AC812 expand_more(2)
09:20
Scheduled
Montreal (YUL)
Lufthansa
LH6547
09:20
Scheduled
Montreal (YUL)
United Airlines
UA8090
09:20
Scheduled
Aalborg (AAL)
BRA
TT3800
09:22
Delayed
Bologna (BLQ)
Ryanair
FR789
09:30
Scheduled
Toronto (YYZ)
Air Transat
TS480 expand_more(1)
09:35
Scheduled
Toronto (YYZ)
Porter Airlines Canada
PD7480
09:35
Scheduled
Ponta Delgada (PDL)
TAP Air Portugal
TP1864 expand_more(8)
09:40
Scheduled
Ponta Delgada (PDL)
Air Baltic
BT5347
09:40
Scheduled
Ponta Delgada (PDL)
Air Canada
AC2689
09:40
Scheduled
Ponta Delgada (PDL)
Azores Airlines
S48274
09:40
Scheduled
Ponta Delgada (PDL)
Azul Linhas Aereas
AD7458
09:40
Scheduled
Ponta Delgada (PDL)
Emirates
EK4821
09:40
Scheduled
Ponta Delgada (PDL)
Lufthansa
LH6987
09:40
Scheduled
Ponta Delgada (PDL)
Luxair
LG1964
09:40
Scheduled
Ponta Delgada (PDL)
Turkish Airlines
TK8137
09:40
Scheduled
Fortaleza (FOR)
Wamos Air
TP36 expand_more(2)
09:50
Delayed
Fortaleza (FOR)
Azul Linhas Aereas
AD7262
09:50
Delayed
Fortaleza (FOR)
Capital Airlines
JD5426
09:50
Delayed
Recife (REC)
TAP Air Portugal
TP12 expand_more(4)
09:50
Delayed
Recife (REC)
Azul Linhas Aereas
AD7518
09:50
Delayed
Recife (REC)
Capital Airlines
JD5437
09:50
Delayed
Recife (REC)
El Al
LY9097
09:50
Delayed
Recife (REC)
Emirates
EK4827
09:50
Delayed
New York (JFK)
TAP Air Portugal
TP208 expand_more(1)
09:50
Scheduled
New York (JFK)
Emirates
EK4839
09:50
Scheduled
Porto (OPO)
TAP Express
TP1941 expand_more(4)
09:55
Scheduled
Porto (OPO)
Air Canada
AC2638
09:55
Scheduled
Porto (OPO)
Azores Airlines
S48453
09:55
Scheduled
Porto (OPO)
Azul Linhas Aereas
AD7512
09:55
Scheduled
Porto (OPO)
Emirates
EK4798
09:55
Scheduled
Luton (LTN)
easyJet
U22459
09:55
Scheduled
Lyon (LYS)
easyJet
U24425
10:00
Delayed
Istanbul (IST)
Turkish Airlines
TK1755 expand_more(3)
10:05
Delayed
Istanbul (IST)
IndiGo
6E4190
10:05
Delayed
Istanbul (IST)
Malaysia Airlines
MH4325
10:05
Delayed
Istanbul (IST)
TAP Air Portugal
TP6455
10:05
Delayed
Boston (BOS)
TAP Air Portugal
TP216 expand_more(1)
10:10
Scheduled
Boston (BOS)
Emirates
EK4841
10:10
Scheduled
Sevilla (SVQ)
TAP Express
TP1107 expand_more(4)
10:10
Scheduled
Sevilla (SVQ)
Air Canada
AC2677
10:10
Scheduled
Sevilla (SVQ)
Azores Airlines
S48733
10:10
Scheduled
Sevilla (SVQ)
Azul Linhas Aereas
AD7462
10:10
Scheduled
Sevilla (SVQ)
Emirates
EK4989
10:10
Scheduled
Terceira Island (TER)
TAP Air Portugal
TP1828 expand_more(5)
10:10
Scheduled
Terceira Island (TER)
Air Baltic
BT5287
10:10
Scheduled
Terceira Island (TER)
Air Canada
AC2641
10:10
Scheduled
Terceira Island (TER)
Azores Airlines
S48828
10:10
Scheduled
Terceira Island (TER)
Azul Linhas Aereas
AD7452
10:10
Scheduled
Terceira Island (TER)
Emirates
EK4775
10:10
Scheduled
Montreal (YUL)
TAP Air Portugal
TP254
10:10
Scheduled
Washington (IAD)
TAP Air Portugal
TP234
10:15
Scheduled
London (LHR)
British Airways
BA500 expand_more(2)
10:15
Scheduled
London (LHR)
Cathay Pacific
CX7201
10:15
Scheduled
London (LHR)
Qatar Airways
QR5902
10:15
Scheduled
Madrid (MAD)
easyJet
U27652
10:20
Scheduled
Lushan (LUZ)
Portuguese Air Force
AFP31
10:20
Scheduled
Sao Paulo (GRU)
TAP Air Portugal
TP88 expand_more(3)
10:25
Scheduled
Sao Paulo (GRU)
Azul Linhas Aereas
AD7250
10:25
Scheduled
Sao Paulo (GRU)
El Al
LY9095
10:25
Scheduled
Sao Paulo (GRU)
Emirates
EK4815
10:25
Scheduled
Washington (IAD)
United Airlines
UA942 expand_more(2)
10:35
Diverted
Washington (IAD)
Air Canada
AC3837
10:35
Diverted
Washington (IAD)
Lufthansa
LH8864
10:35
Diverted
London (LHR)
TAP Air Portugal
TP1351 expand_more(6)
10:40
Scheduled
London (LHR)
Air Canada
AC2712
10:40
Scheduled
London (LHR)
Azores Airlines
S48609
10:40
Scheduled
London (LHR)
Azul Linhas Aereas
AD7292
10:40
Scheduled
London (LHR)
Ethiopian Airlines
ET1740
10:40
Scheduled
London (LHR)
Singapore Airlines
SQ2787
10:40
Scheduled
London (LHR)
United Airlines
UA6866
10:40
Scheduled
Malaga (AGP)
TAP Express
TP1133 expand_more(3)
10:45
Scheduled
Malaga (AGP)
Air Canada
AC2687
10:45
Scheduled
Malaga (AGP)
Azores Airlines
S48703
10:45
Scheduled
Malaga (AGP)
Azul Linhas Aereas
AD7337
10:45
Scheduled
Boston (BOS)
Delta Air Lines
DL124 expand_more(3)
10:45
Scheduled
Boston (BOS)
Air France
AF3627
10:45
Scheduled
Boston (BOS)
KLM
KL6003
10:45
Scheduled
Boston (BOS)
Virgin Atlantic
VS3953
10:45
Scheduled
Cancun (CUN)
TAP Air Portugal
TP276 expand_more(1)
10:45
Scheduled
Cancun (CUN)
Emirates
EK4851
10:45
Scheduled
London (STN)
Ryanair
FR1080
10:45
Scheduled
Ponta Delgada (PDL)
Ryanair
FR2622
10:50
Scheduled
Madrid (MAD)
Air Europa
UX1153 expand_more(3)
10:50
Scheduled
Madrid (MAD)
Aeromexico
AM6914
10:50
Scheduled
Madrid (MAD)
AirSERBIA
JU7461
10:50
Scheduled
Madrid (MAD)
Azul Linhas Aereas
AD7854
10:50
Scheduled
Amsterdam (AMS)
KLM
KL1693 expand_more(3)
10:55
Scheduled
Amsterdam (AMS)
China Southern Airlines
CZ7663
10:55
Scheduled
Amsterdam (AMS)
Delta Air Lines
DL9363
10:55
Scheduled
Amsterdam (AMS)
Korean Air
KE6439
10:55
Scheduled
Vienna (VIE)
Lauda Europe
FR4167
10:55
Scheduled
Newark (EWR)
TAP Air Portugal
TP204 expand_more(1)
11:00
Scheduled
Newark (EWR)
Air Canada
AC2692
11:00
Scheduled
Funchal (FNC)
Ryanair
FR384
11:00
Scheduled
Porto (OPO)
TAP Air Portugal
TP1939 expand_more(6)
11:00
Scheduled
Porto (OPO)
Air Canada
AC2700
11:00
Scheduled
Porto (OPO)
Azores Airlines
S48447
11:00
Scheduled
Porto (OPO)
Azul Linhas Aereas
AD7472
11:00
Scheduled
Porto (OPO)
Emirates
EK4794
11:00
Scheduled
Porto (OPO)
Lufthansa
LH6943
11:00
Scheduled
Porto (OPO)
SAS
SK8935
11:00
Scheduled
Campinas (VCP)
Azul
AD8752 expand_more(1)
11:00
Scheduled
Campinas (VCP)
TAP Air Portugal
TP5006
11:00
Scheduled
Toronto (YYZ)
TAP Air Portugal
TP262
11:05
Scheduled
Brussels (BRU)
Brussels Airlines
SN3815 expand_more(2)
11:10
Scheduled
Brussels (BRU)
Etihad Airways
EY7209
11:10
Scheduled
Brussels (BRU)
TAP Air Portugal
TP6775
11:10
Scheduled
Salvador (SSA)
TAP Air Portugal
TP22 expand_more(3)
11:10
Delayed
Salvador (SSA)
Azul Linhas Aereas
AD7260
11:10
Delayed
Salvador (SSA)
Capital Airlines
JD5435
11:10
Delayed
Salvador (SSA)
Emirates
EK4831
11:10
Delayed
Toronto (YYZ)
Air Canada
AC810 expand_more(2)
11:10
Scheduled
Toronto (YYZ)
Lufthansa
LH6715
11:10
Scheduled
Toronto (YYZ)
United Airlines
UA8655
11:10
Scheduled
Belem (BEL)
TAP Air Portugal
TP48 expand_more(2)
11:15
Delayed
Belem (BEL)
Azul Linhas Aereas
AD7272
11:15
Delayed
Belem (BEL)
Emirates
EK4801
11:15
Delayed
Paris (CDG)
Air France
AF1024 expand_more(7)
11:15
Scheduled
Paris (CDG)
Air Austral
UU8024
11:15
Scheduled
Paris (CDG)
Azores Airlines
S47301
11:15
Scheduled
Paris (CDG)
Delta Air Lines
DL8440
11:15
Scheduled
Paris (CDG)
Etihad Airways
EY5934
11:15
Scheduled
Paris (CDG)
GOL Linhas Aereas
G35123
11:15
Scheduled
Paris (CDG)
Kenya Airways
KQ3816
11:15
Scheduled
Paris (CDG)
Singapore Airlines
SQ1876
11:15
Scheduled
Frankfurt (FRA)
Lufthansa
LH1166 expand_more(6)
11:15
Scheduled
Frankfurt (FRA)
Air Canada
AC9062
11:15
Scheduled
Frankfurt (FRA)
Austrian Airlines
OS7327
11:15
Scheduled
Frankfurt (FRA)
Ethiopian Airlines
ET1567
11:15
Scheduled
Frankfurt (FRA)
Singapore Airlines
SQ2108
11:15
Scheduled
Frankfurt (FRA)
TAP Air Portugal
TP6700
11:15
Scheduled
Frankfurt (FRA)
Thai Airways
TG7692
11:15
Scheduled
Funchal (FNC)
easyJet
U27622
11:15
Scheduled
Terceira Island (TER)
Azores Airlines
S4230 expand_more(2)
11:20
Scheduled
Terceira Island (TER)
Air France
AF9618
11:20
Scheduled
Terceira Island (TER)
TAP Air Portugal
TP6634
11:20
Scheduled
Madrid (MAD)
TAP Air Portugal
TP1019 expand_more(6)
11:25
Scheduled
Madrid (MAD)
Aegean Airlines
A31777
11:25
Scheduled
Madrid (MAD)
Air Canada
AC2681
11:25
Scheduled
Madrid (MAD)
Avianca
AV2487
11:25
Scheduled
Madrid (MAD)
Azores Airlines
S48691
11:25
Scheduled
Madrid (MAD)
Azul Linhas Aereas
AD7310
11:25
Scheduled
Madrid (MAD)
Emirates
EK4859
11:25
Scheduled
Funchal (FNC)
TAP Air Portugal
TP1694
11:30
Scheduled
Ponta Delgada (PDL)
Azores Airlines
S4120
11:40
Scheduled
Madrid (MAD)
Iberia
IB3110
11:50
Scheduled
Paris (ORY)
TAP Air Portugal
TP437
11:50
Scheduled
Rennes (RNS)
easyJet
U27680
11:50
Scheduled
Paris (BVA)
Ryanair
FR3636
11:55
Scheduled
Luxembourg (LUX)
Luxair
LG3751
11:55
Scheduled
Porto (OPO)
TAP Air Portugal
TP1927
12:00
Scheduled
Faro (FAO)
TAP Express
TP1902
12:05
Scheduled
Chicago (ORD)
TAP Air Portugal
TP242
12:05
Scheduled
Cologne (CGN)
Smartwings
EW602
12:15
Scheduled
Barcelona (BCN)
TAP Air Portugal
TP1035
12:25
Scheduled
Brussels (CRL)
Ryanair
FR1300
12:25
Scheduled
Dublin (DUB)
Ryanair
FR7138
12:25
Scheduled
Bergamo (BGY)
easyJet
U26704
12:35
Scheduled
Dubai (DXB)
Emirates
EK191
12:35
Scheduled
London (LHR)
British Airways
BA528
12:40
Scheduled
Glasgow (GLA)
easyJet
U27668
12:45
Scheduled
Alicante (ALC)
TAP Express
TP1123
12:50
Scheduled
Porto (OPO)
TAP Air Portugal
TP1935
13:00
Scheduled
London (LGW)
easyJet
U28513
13:00
Scheduled
Geneva (GVA)
easyJet
U27642
13:05
Scheduled
Paris (ORY)
Transavia France
TO7658
13:05
Scheduled
Milan (MXP)
easyJet
U23871
13:10
Scheduled
Birmingham (BHX)
easyJet
U26706
13:15
Scheduled
Palma Mallorca (PMI)
TAP Air Portugal
TP1151
13:15
Scheduled
Porto Santo (PXO)
TAP Air Portugal
TP1738
13:15
Scheduled
Manchester (MAN)
easyJet
U26728
13:15
Scheduled
Barcelona (BCN)
Vueling
VY8466
13:20
Scheduled
London (LGW)
TAP Express
TP1339
13:20
Scheduled
Paris (ORY)
TAP Air Portugal
TP433
13:25
Scheduled
Marrakech (RAK)
TAP Express
TP1453
13:25
Scheduled
Funchal (FNC)
Swiftair
WT131
13:30
Scheduled
Munich (MUC)
Lufthansa
LH1778
13:30
Scheduled
Paris (ORY)
Transavia France
TO7644
13:30
Scheduled
Berlin (BER)
Ryanair
FR1142
13:35
Scheduled
Brussels (BRU)
TAP Air Portugal
TP647
13:35
Scheduled
Milan (MXP)
TAP Air Portugal
TP827
13:40
Scheduled
Venice (VCE)
TAP Air Portugal
TP863
13:50
Scheduled
Horta (HOR)
Azores Airlines
S4150
13:55
Scheduled
Bologna (BLQ)
TAP Air Portugal
TP871
14:00
Scheduled
Geneva (GVA)
Swiss
LX2092
14:00
Scheduled
Madrid (MAD)
TAP Air Portugal
TP1027
14:00
Scheduled
London (LHR)
TAP Air Portugal
TP1367
14:00
Scheduled
Ponta Delgada (PDL)
TAP Air Portugal
TP1860
14:00
Scheduled
Rome (FCO)
SmartLynx
TP841
14:15
Scheduled
Funchal (FNC)
TAP Air Portugal
TP1696
14:15
Scheduled
Faro (FAO)
TAP Express
TP1906
14:25
Scheduled
Sao Paulo (GRU)
TAP Air Portugal
TP84
14:30
Scheduled
Amsterdam (AMS)
KLM
KL1695
14:35
Scheduled
Geneva (GVA)
TAP Air Portugal
TP943
14:35
Scheduled
Ibiza (IBZ)
TAP Air Portugal
TP1143 expand_more(2)
14:35
Scheduled
Ibiza (IBZ)
Azores Airlines
S48248
14:35
Scheduled
Ibiza (IBZ)
Emirates
EK4855
14:35
Scheduled
Zurich (ZRH)
Swiss
LX2084
14:40
Scheduled
Paris (CDG)
Air France
AF1624
14:50
Scheduled
Napoli (NAP)
TAP Express
TP883
14:50
Scheduled
Cologne (CGN)
Air Alliance
UNI116
15:00
Scheduled
Madrid (MAD)
easyJet
U27654
15:05
Scheduled
Zurich (ZRH)
TAP Air Portugal
TP931
15:10
Scheduled
Tenerife (TFS)
TAP Express
TP1127
15:15
Scheduled
Madrid (MAD)
Air Europa
UX1155
15:15
Scheduled
Luton (LTN)
easyJet
U22461
15:15
Scheduled
Frankfurt (FRA)
Lufthansa
LH1168
15:20
Scheduled
Sal (SID)
Cabo Verde Airlines
VR602
15:20
Scheduled
Riga (RIX)
Air Baltic
BT675
15:30
Scheduled
Istanbul (IST)
Turkish Airlines
TK1759
15:35
Scheduled
Vantaa (HEL)
Finnair
AY1739
15:40
Scheduled
Frankfurt (FRA)
TAP Air Portugal
TP573
15:40
Scheduled
Malaga (AGP)
TAP Express
TP1135
15:45
Scheduled
London (LHR)
British Airways
BA518
15:45
Scheduled
Bilbao (BIO)
Vueling
VY2700 expand_more(1)
15:50
Scheduled
Bilbao (BIO)
Iberia
IB5197
15:50
Scheduled
Las Palmas (LPA)
TAP Express
TP1119
15:50
Scheduled
Munich (MUC)
TAP Air Portugal
TP557
15:55
Scheduled
Amsterdam (AMS)
TAP Air Portugal
TP673
16:00
Scheduled
Barcelona (BCN)
TAP Express
TP1047
16:00
Scheduled
Paris (ORY)
Transavia
TO7646
16:00
Scheduled
Malaga (AGP)
Ryanair
FR3683
16:05
Scheduled
Madrid (MAD)
Iberia
IB3102
16:05
Scheduled
Paris (ORY)
TAP Air Portugal
TP439
16:10
Scheduled
Sevilla (SVQ)
TAP Express
TP1105
16:10
Scheduled
Warsaw (WAW)
Fly2Sky
TP1205
16:10
Scheduled
Athens (ATH)
Aegean Airlines
A3720
16:15
Scheduled
Funchal (FNC)
Ryanair
FR386
16:15
Scheduled
Rome (CIA)
Ryanair
FR2098
16:20
Scheduled
Bristol (BRS)
easyJet
U22867
16:20
Scheduled
London (LHR)
TAP Air Portugal
TP1359
16:25
Scheduled
Madrid (MAD)
TAP Air Portugal
TP1015
16:40
Scheduled
Funchal (FNC)
Swiftair
WT129
16:45
Scheduled
Luanda (LAD)
TAP Air Portugal
TP288
16:45
Scheduled
Amsterdam (AMS)
Vueling
VY8435
17:00
Scheduled
Terceira Island (TER)
TAP Air Portugal
TP1824
17:00
Scheduled
Porto (OPO)
TAP Air Portugal
TP1949
17:00
Scheduled
Milan (MXP)
easyJet
U27670
17:00
Scheduled
Dusseldorf (DUS)
Eurowings
EW9602
17:10
Scheduled
Warsaw (WAW)
Wizz Air
W61591
17:15
Scheduled
Barcelona (BCN)
Ryanair
FR3078
17:20
Scheduled
Funchal (FNC)
easyJet
U27626
17:30
Scheduled
Casablanca (CMN)
Royal Air Maroc
AT982
17:40
Scheduled
Brussels (BRU)
TAP Air Portugal
TP643
17:45
Scheduled
Funchal (FNC)
TAP Express
TP1686
17:45
Scheduled
Paris (CDG)
Air France
AF1194
17:55
Scheduled
London (LHR)
British Airways
BA502
17:55
Scheduled
London (STN)
Ryanair
FR1882
18:00
Scheduled
Paris (ORY)
TAP Air Portugal
TP441
18:10
Scheduled
Bilbao (BIO)
easyJet
U26710
18:15
Scheduled
Madrid (MAD)
TAP Air Portugal
TP1021
18:15
Scheduled
Casablanca (CMN)
TAP Express
TP1443
18:20
Scheduled
Nantes (NTE)
easyJet
U27610
18:20
Scheduled
Paris (ORY)
Vueling
VY1981
18:20
Scheduled
Paris (ORY)
Transavia
TO7648
18:25
Scheduled
Luton (LTN)
easyJet
U22463
18:25
Scheduled
Ponta Delgada (PDL)
Azores Airlines
S4124
18:30
Scheduled
Bissau (OXB)
TAP Air Portugal
TP1476
18:30
Scheduled
Sao Vicente (VXE)
TAP Air Portugal
TP1558
18:30
Scheduled
Praia (RAI)
TAP Air Portugal
TP1546
18:35
Scheduled
Amsterdam (AMS)
KLM
KL1677
18:40
Scheduled
Barcelona (BCN)
TAP Air Portugal
TP1037
18:45
Scheduled
Brussels (CRL)
Ryanair
FR3610
18:45
Scheduled
Marrakech (RAK)
TAP Express
TP1451
18:45
Scheduled
Tenerife (TFN)
Vueling
VY3106
18:45
Scheduled
Paris (CDG)
easyJet
U24593
18:55
Scheduled
Brussels (BRU)
Brussels Airlines
SN3819
19:00
Scheduled
Dubai (DXB)
Emirates
EK193
19:00
Scheduled
Faro (FAO)
TAP Air Portugal
TP1904
19:00
Scheduled
Porto (OPO)
TAP Express
TP1951
19:00
Scheduled
Manises (VLC)
TAP Express
TP1091
19:00
Scheduled
Milan (MXP)
TAP Air Portugal
TP823
19:10
Scheduled
London (LGW)
TAP Express
TP1337
19:10
Scheduled
Belgrade (BEG)
Wizz Air
W64127
19:15
Scheduled
Geneva (GVA)
easyJet
U27644
19:15
Scheduled
Madrid (MAD)
Air Europa
UX1157
19:15
Scheduled
Nantes (NTE)
Transavia
TO7820
19:20
Scheduled
Amsterdam (AMS)
TAP Air Portugal
TP675
19:25
Scheduled
Marseille (MRS)
easyJet
U26730
19:25
Scheduled
Bilbao (BIO)
TAP Express
TP1067
19:30
Scheduled
Toulouse (TLS)
TAP Air Portugal
TP493
19:40
Scheduled
Bordeaux (BOD)
Ryanair
FR2181
19:45
Scheduled
Dusseldorf (DUS)
TAP Express
TP545
19:45
Scheduled
Rome (FCO)
TAP Air Portugal
TP833
19:45
Scheduled
Marseille (MRS)
TAP Express
TP401
19:45
Scheduled
NIce (NCE)
TAP Express
TP487
19:45
Scheduled
Luxembourg (LUX)
TAP Air Portugal
TP693
19:45
Scheduled
Berlin (BER)
TAP Air Portugal
TP535
20:00
Scheduled
Hamburg (HAM)
TAP Express
TP563
20:00
Scheduled
Lyon (LYS)
TAP Express
TP477
20:00
Scheduled
Edinburgh (EDI)
Ryanair
FR6461
20:05
Scheduled
Geneva (GVA)
TAP Air Portugal
TP947
20:05
Scheduled
Madrid (MAD)
Iberia
IB3106
20:05
Scheduled
London (LGW)
easyJet
U28517
20:10
Scheduled
Zurich (ZRH)
TAP Air Portugal
TP927
20:15
Scheduled
Tel Aviv Yafo (TLV)
Neos
NO9071
20:20
Scheduled
Palma Mallorca (PMI)
Vueling
VY3436
20:20
Scheduled
Toulouse (TLS)
Ryanair
FR1799
20:25
Scheduled
Madrid (MAD)
TAP Express
TP1025
20:30
Scheduled
Paris (BVA)
Ryanair
FR1084
20:35
Scheduled
Copenhagen (CPH)
TAP Air Portugal
TP759
20:35
Scheduled
Luanda (LAD)
TAAG Angola Airlines
DT652
20:35
Scheduled
London (STN)
Ryanair
FR1884
20:55
Scheduled
Tel Aviv Yafo (TLV)
El Al
LY375
21:00
Scheduled
Funchal (FNC)
TAP Air Portugal
TP1698
21:05
Scheduled
Barcelona (BCN)
TAP Air Portugal
TP1045
21:10
Scheduled
Dublin (DUB)
Ryanair
FR7328
21:10
Scheduled
Paris (ORY)
TAP Air Portugal
TP431
21:15
Scheduled
Venice (VCE)
TAP Air Portugal
TP861
21:15
Scheduled
Luton (LTN)
Wizz Air
W94493
21:15
Scheduled
Barcelona (BCN)
Vueling
VY8464
21:20
Scheduled
London (LHR)
TAP Air Portugal
TP1357
21:25
Scheduled
Amsterdam (AMS)
TAP Air Portugal
TP671
21:35
Scheduled
Dublin (DUB)
Aer Lingus
EI486
21:35
Scheduled
Munich (MUC)
Lufthansa
LH1780 expand_more(4)
21:40
Scheduled
Munich (MUC)
Austrian Airlines
OS7345
21:40
Scheduled
Munich (MUC)
SAS
SK3266
21:40
Scheduled
Munich (MUC)
TAP Air Portugal
TP6724
21:40
Scheduled
Munich (MUC)
United Airlines
UA8963
21:40
Scheduled
Birmingham (BHX)
Ryanair
FR3703
21:45
Scheduled
Frankfurt (FRA)
TAP Air Portugal
TP579
21:50
Scheduled
Tel Aviv Yafo (TLV)
Israir Airlines
6H191
21:55
Scheduled
Frankfurt (FRA)
Lufthansa
LH1496
22:00
Scheduled
Oslo (OSL)
TAP Air Portugal
TP763
22:00
Scheduled
Belgrade (BEG)
AirSERBIA
JU494
22:05
Scheduled
Prague (PRG)
TAP Air Portugal
TP1243
22:05
Scheduled
Stockholm (ARN)
TAP Air Portugal
TP783
22:20
Scheduled
Bordeaux (BOD)
easyJet
U27606
22:20
Scheduled
Munich (MUC)
TAP Air Portugal
TP551
22:20
Scheduled
Milan (MXP)
TAP Air Portugal
TP829
22:20
Scheduled
Paris (CDG)
Air France
AF1124
22:25
Scheduled
Rome (FCO)
TAP Air Portugal
TP843
22:25
Scheduled
London (LHR)
TAP Air Portugal
TP1369
22:30
Scheduled
Porto (OPO)
TAP Air Portugal
TP1961
22:30
Scheduled
Vienna (VIE)
TAP Air Portugal
TP1273
22:30
Scheduled
Dublin (DUB)
TAP Express
TP1327
22:35
Scheduled
Paris (ORY)
TAP Air Portugal
TP449
22:35
Scheduled
Madrid (MAD)
TAP Air Portugal
TP1029
22:35
Scheduled
Ponta Delgada (PDL)
TAP Air Portugal
TP1862
22:35
Scheduled
Brussels (BRU)
TAP Air Portugal
TP649
22:40
Scheduled
Ponta Delgada (PDL)
Ryanair
FR2624
22:40
Scheduled
NIce (NCE)
easyJet
U27612
22:45
Scheduled
Amsterdam (AMS)
KLM
KL1697
22:50
Scheduled
Marseille (MRS)
Ryanair
FR2078
22:50
Scheduled
Funchal (FNC)
easyJet
U27628
22:55
Scheduled
Zurich (ZRH)
Swiss
LX2082
23:00
Scheduled
Paris (ORY)
Transavia France
TO7662
23:05
Scheduled
Milan (MXP)
easyJet
U27674
23:15
Scheduled
London (LGW)
easyJet
U28515
23:20
Scheduled
Paris (BVA)
easyJet
U26714
23:25
Scheduled
Funchal (FNC)
TAP Air Portugal
TP1688
23:25
Scheduled
Madrid (MAD)
Iberia
IB3118
23:25
Scheduled
Terceira Island (TER)
Ryanair
FR6067
23:35
Scheduled
Barcelona (BCN)
TAP Express
TP1043 expand_more(3)
23:40
Scheduled
Barcelona (BCN)
Azores Airlines
S48711
23:40
Scheduled
Barcelona (BCN)
Azul Linhas Aereas
AD7206
23:40
Scheduled
Barcelona (BCN)
El Al
LY9005
23:40
Scheduled
Madrid (MAD)
easyJet
U26724
23:40
Scheduled
Barcelona (BCN)
easyJet
U26702
23:50
Scheduled
Porto (OPO)
TAP Air Portugal
TP1971 expand_more(3)
23:55
Scheduled
Porto (OPO)
Azores Airlines
S48425
23:55
Scheduled
Porto (OPO)
Azul Linhas Aereas
AD7498
23:55
Scheduled
Porto (OPO)
Lufthansa
LH6977
23:55
Scheduled
Manises (VLC)
easyJet
U26746
23:55
Scheduled
Destination
Airline
Flight no.
Scheduled
Est./Actual
Status
Athens (ATH)
Aegean Airlines
A3723 expand_more(2)
00:35
00:49
En-Route
Athens (ATH)
TAP Air Portugal
TP7401
00:35
00:49
En-Route
Athens (ATH)
Volotea
V75137
00:35
00:49
En-Route
Warsaw (WAW)
Wizz Air
W61594
01:05
03:50
En-Route
Lublin (LUZ)
Portuguese Air Force
AFP31
01:50
Scheduled
Amsterdam (AMS)
KLM
KL1692 expand_more(5)
05:00
05:10
En-Route
Amsterdam (AMS)
Aeromexico
AM6641
05:00
05:10
En-Route
Amsterdam (AMS)
China Southern Airlines
CZ7665
05:00
05:10
En-Route
Amsterdam (AMS)
Delta Air Lines
DL9506
05:00
05:10
En-Route
Amsterdam (AMS)
GOL Linhas Aereas
G35563
05:00
05:10
En-Route
Amsterdam (AMS)
Tarom
RO9313
05:00
05:10
En-Route
Frankfurt (FRA)
Lufthansa
LH1497 expand_more(4)
05:05
05:23
En-Route
Frankfurt (FRA)
Air Canada
AC9357
05:05
05:23
En-Route
Frankfurt (FRA)
Austrian Airlines
OS7220
05:05
05:23
En-Route
Frankfurt (FRA)
TAP Air Portugal
TP6705
05:05
05:23
En-Route
Frankfurt (FRA)
United Airlines
UA9159
05:05
05:23
En-Route
Paris (CDG)
Air France
AF1125 expand_more(8)
05:40
05:50
En-Route
Paris (CDG)
Azores Airlines
S47302
05:40
05:50
En-Route
Paris (CDG)
Delta Air Lines
DL8439
05:40
05:50
En-Route
Paris (CDG)
Etihad Airways
EY5926
05:40
05:50
En-Route
Paris (CDG)
GOL Linhas Aereas
G35122
05:40
05:50
En-Route
Paris (CDG)
Kenya Airways
KQ3791
05:40
05:50
En-Route
Paris (CDG)
Korean Air
KE6400
05:40
05:50
En-Route
Paris (CDG)
Singapore Airlines
SQ1877
05:40
05:50
En-Route
Paris (CDG)
WestJet
WS5044
05:40
05:50
En-Route
Zurich (ZRH)
Swiss
LX2083 expand_more(1)
05:55
Scheduled
Zurich (ZRH)
TAP Air Portugal
TP8205
05:55
Scheduled
Glasgow (GLA)
easyJet
U27667
06:00
Scheduled
Funchal (FNC)
Swiftair
WT128
06:00
Scheduled
Ponta Delgada (PDL)
Azores Airlines
S4121 expand_more(1)
06:00
Scheduled
Ponta Delgada (PDL)
TAP Air Portugal
TP6617
06:00
Scheduled
Berlin (BER)
Ryanair
FR1143
06:05
Scheduled
Paris (ORY)
TAP Air Portugal
TP436 expand_more(2)
06:05
Scheduled
Paris (ORY)
Azores Airlines
S48936
06:05
Scheduled
Paris (ORY)
Azul Linhas Aereas
AD7517
06:05
Scheduled
Munich (MUC)
Lufthansa
LH1781 expand_more(4)
06:15
Scheduled
Munich (MUC)
Air Canada
AC9690
06:15
Scheduled
Munich (MUC)
Austrian Airlines
OS7346
06:15
Scheduled
Munich (MUC)
TAP Air Portugal
TP6725
06:15
Scheduled
Munich (MUC)
United Airlines
UA8957
06:15
Scheduled
Milan (BGY)
easyJet
U26703
06:15
Scheduled
Funchal (FNC)
Ryanair
FR385
06:20
Scheduled
Manchester (MAN)
easyJet
U26727
06:25
Scheduled
Paris (BVA)
Ryanair
FR3635
06:30
Scheduled
Brussels (CRL)
Ryanair
FR1301
06:30
Scheduled
Paris (ORY)
Transavia
TO7663
06:30
Scheduled
Madrid (MAD)
Iberia
IB3107 expand_more(6)
06:35
Scheduled
Madrid (MAD)
American Airlines
AA8542
06:35
Scheduled
Madrid (MAD)
Finnair
AY5564
06:35
Scheduled
Madrid (MAD)
Jet Linx Aviation
JL6956
06:35
Scheduled
Madrid (MAD)
LATAM Airlines
LA1533
06:35
Scheduled
Madrid (MAD)
Qatar Airways
QR6933
06:35
Scheduled
Madrid (MAD)
Vueling
VY5214
06:35
Scheduled
London (LGW)
easyJet
U28512
06:40
Scheduled
Frankfurt (FRA)
Lufthansa
LH1173 expand_more(5)
06:45
Scheduled
Frankfurt (FRA)
Air Canada
AC9083
06:45
Scheduled
Frankfurt (FRA)
Austrian Airlines
OS7344
06:45
Scheduled
Frankfurt (FRA)
TAP Air Portugal
TP6707
06:45
Scheduled
Frankfurt (FRA)
Thai Airways
TG7693
06:45
Scheduled
Frankfurt (FRA)
United Airlines
UA9133
06:45
Scheduled
Venice (VCE)
TAP Air Portugal
TP864 expand_more(4)
06:55
Scheduled
Venice (VCE)
Azores Airlines
S48498
06:55
Scheduled
Venice (VCE)
Azul Linhas Aereas
AD7324
06:55
Scheduled
Venice (VCE)
ITA Airways
AZ7527
06:55
Scheduled
Venice (VCE)
LOT
LO4736
06:55
Scheduled
Birmingham (BHX)
easyJet
U26705
07:00
Scheduled
Porto (OPO)
TAP Express
TP1926 expand_more(3)
07:00
Scheduled
Porto (OPO)
Azores Airlines
S48440
07:00
Scheduled
Porto (OPO)
Azul Linhas Aereas
AD7257
07:00
Scheduled
Porto (OPO)
Lufthansa
LH6998
07:00
Scheduled
Warsaw (WAW)
Fly2Sky
TP1204 expand_more(2)
07:00
Scheduled
Warsaw (WAW)
Azores Airlines
S48504
07:00
Scheduled
Warsaw (WAW)
LOT
LO5442
07:00
Scheduled
Funchal (FNC)
Swiftair
WT130
07:00
Scheduled
Rennes (RNS)
easyJet
U27679
07:00
Scheduled
London (LGW)
TAP Express
TP1330 expand_more(1)
07:05
Scheduled
London (LGW)
Azores Airlines
S48622
07:05
Scheduled
Madrid (MAD)
easyJet
U27651
07:05
Scheduled
Milan (MXP)
TAP Air Portugal
TP822 expand_more(7)
07:10
Scheduled
Milan (MXP)
Aegean Airlines
A31702
07:10
Scheduled
Milan (MXP)
Air China
CA7046
07:10
Scheduled
Milan (MXP)
Azores Airlines
S48130
07:10
Scheduled
Milan (MXP)
Azul Linhas Aereas
AD7321
07:10
Scheduled
Milan (MXP)
Egyptair
MS9417
07:10
Scheduled
Milan (MXP)
ITA Airways
AZ7753
07:10
Scheduled
Milan (MXP)
Singapore Airlines
SQ2782
07:10
Scheduled
Funchal (FNC)
easyJet
U27621
07:10
Scheduled
Funchal (FNC)
TAP Air Portugal
TP1699 expand_more(2)
07:15
Scheduled
Funchal (FNC)
Azores Airlines
S48005
07:15
Scheduled
Funchal (FNC)
Azul Linhas Aereas
AD7305
07:15
Scheduled
Brussels (BRU)
TAP Air Portugal
TP646 expand_more(2)
07:15
Scheduled
Brussels (BRU)
Azores Airlines
S48486
07:15
Scheduled
Brussels (BRU)
Brussels Airlines
SN6402
07:15
Scheduled
Bologna (BLQ)
TAP Air Portugal
TP872 expand_more(1)
07:20
Scheduled
Bologna (BLQ)
Azul Linhas Aereas
AD7295
07:20
Scheduled
Malaga (AGP)
TAP Express
TP1134 expand_more(2)
07:20
Scheduled
Malaga (AGP)
Azores Airlines
S48690
07:20
Scheduled
Malaga (AGP)
Azul Linhas Aereas
AD7332
07:20
Scheduled
Geneva (GVA)
easyJet
U27641
07:25
Scheduled
Seville (SVQ)
TAP Express
TP1106 expand_more(2)
07:25
Scheduled
Seville (SVQ)
Azores Airlines
S48704
07:25
Scheduled
Seville (SVQ)
Azul Linhas Aereas
AD7263
07:25
Scheduled
Rome (FCO)
SmartLynx
TP834 expand_more(3)
07:25
Scheduled
Rome (FCO)
Azores Airlines
S48234
07:25
Scheduled
Rome (FCO)
Azul Linhas Aereas
AD7464
07:25
Scheduled
Rome (FCO)
ITA Airways
AZ7525
07:25
Scheduled
Alicante (ALC)
TAP Express
TP1122 expand_more(2)
07:30
Scheduled
Alicante (ALC)
Azores Airlines
S48240
07:30
Scheduled
Alicante (ALC)
Azul Linhas Aereas
AD7325
07:30
Scheduled
Madrid (MAD)
Air Europa
UX1152 expand_more(5)
07:35
Scheduled
Madrid (MAD)
Aeromexico
AM6917
07:35
Scheduled
Madrid (MAD)
Azul Linhas Aereas
AD7850
07:35
Scheduled
Madrid (MAD)
Delta Air Lines
DL6752
07:35
Scheduled
Madrid (MAD)
ITA Airways
AZ2410
07:35
Scheduled
Madrid (MAD)
Tarom
RO9446
07:35
Scheduled
Casablanca (CMN)
ASL Airlines
3V4437
07:36
Scheduled
Naples (NAP)
TAP Express
TP882
07:40
Scheduled
London (LHR)
TAP Air Portugal
TP1356 expand_more(9)
07:40
Scheduled
London (LHR)
Aegean Airlines
A31735
07:40
Scheduled
London (LHR)
Air Canada
AC2714
07:40
Scheduled
London (LHR)
Air India
AI7904
07:40
Scheduled
London (LHR)
Azores Airlines
S48606
07:40
Scheduled
London (LHR)
Azul Linhas Aereas
AD7331
07:40
Scheduled
London (LHR)
Egyptair
MS9547
07:40
Scheduled
London (LHR)
Ethiopian Airlines
ET1743
07:40
Scheduled
London (LHR)
Singapore Airlines
SQ2778
07:40
Scheduled
London (LHR)
United Airlines
UA6863
07:40
Scheduled
Paris (ORY)
TAP Air Portugal
TP434 expand_more(2)
07:40
Scheduled
Paris (ORY)
Azores Airlines
S48930
07:40
Scheduled
Paris (ORY)
Azul Linhas Aereas
AD7507
07:40
Scheduled
Horta (HOR)
Azores Airlines
S4151 expand_more(1)
07:45
Scheduled
Horta (HOR)
TAP Air Portugal
TP6593
07:45
Scheduled
Farnborough (FAB)
Global Air Charters
GJE212
07:50
Scheduled
Faro (FAO)
Global Air Charters
GJE212
07:50
Scheduled
Barcelona (BCN)
TAP Air Portugal
TP1040 expand_more(6)
07:55
Scheduled
Barcelona (BCN)
Aegean Airlines
A31728
07:55
Scheduled
Barcelona (BCN)
Air Canada
AC2702
07:55
Scheduled
Barcelona (BCN)
Avianca
AV2503
07:55
Scheduled
Barcelona (BCN)
Azores Airlines
S48042
07:55
Scheduled
Barcelona (BCN)
Azul Linhas Aereas
AD7289
07:55
Scheduled
Barcelona (BCN)
LOT
LO4714
07:55
Scheduled
Porto (OPO)
TAP Air Portugal
TP1930 expand_more(4)
08:00
Scheduled
Porto (OPO)
Air Baltic
BT5290
08:00
Scheduled
Porto (OPO)
Azores Airlines
S48244
08:00
Scheduled
Porto (OPO)
Azul Linhas Aereas
AD7477
08:00
Scheduled
Porto (OPO)
United Airlines
UA6891
08:00
Scheduled
Madrid (MAD)
TAP Air Portugal
TP1016 expand_more(7)
08:00
Scheduled
Madrid (MAD)
Air Canada
AC2683
08:00
Scheduled
Madrid (MAD)
Avianca
AV2485
08:00
Scheduled
Madrid (MAD)
Azores Airlines
S48702
08:00
Scheduled
Madrid (MAD)
Azul Linhas Aereas
AD7316
08:00
Scheduled
Madrid (MAD)
Egyptair
MS9432
08:00
Scheduled
Madrid (MAD)
El Al
LY9030
08:00
Scheduled
Madrid (MAD)
Emirates
EK4856
08:00
Scheduled
Montreal (YUL)
Air Transat
TS681 expand_more(1)
08:15
Scheduled
Montreal (YUL)
Porter Airlines Canada
PD7681
08:15
Scheduled
Bissau (OXB)
TAP Air Portugal
TP1477 expand_more(1)
08:15
Scheduled
Bissau (OXB)
Emirates
EK4870
08:15
Scheduled
Madrid (MAD)
Iberia
IB3111 expand_more(5)
08:25
Scheduled
Madrid (MAD)
American Airlines
AA8737
08:25
Scheduled
Madrid (MAD)
Jet Linx Aviation
JL9408
08:25
Scheduled
Madrid (MAD)
LATAM Airlines
LA7180
08:25
Scheduled
Madrid (MAD)
Qatar Airways
QR6978
08:25
Scheduled
Madrid (MAD)
Vueling
VY5072
08:25
Scheduled
Palma de Mallorca (PMI)
TAP Air Portugal
TP1150 expand_more(3)
08:25
Scheduled
Palma de Mallorca (PMI)
Azores Airlines
S48499
08:25
Scheduled
Palma de Mallorca (PMI)
Azul Linhas Aereas
AD7493
08:25
Scheduled
Palma de Mallorca (PMI)
Emirates
EK4797
08:25
Scheduled
Ponta Delgada (PDL)
TAP Air Portugal
TP1869 expand_more(2)
08:30
Scheduled
Ponta Delgada (PDL)
Azores Airlines
S48279
08:30
Scheduled
Ponta Delgada (PDL)
Azul Linhas Aereas
AD7484
08:30
Scheduled
Frankfurt (FRA)
TAP Air Portugal
TP574 expand_more(8)
08:35
Scheduled
Frankfurt (FRA)
Air Canada
AC2659
08:35
Scheduled
Frankfurt (FRA)
Air China
CA7034
08:35
Scheduled
Frankfurt (FRA)
Azores Airlines
S48760
08:35
Scheduled
Frankfurt (FRA)
Azul Linhas Aereas
AD7317
08:35
Scheduled
Frankfurt (FRA)
Egyptair
MS9440
08:35
Scheduled
Frankfurt (FRA)
El Al
LY9040
08:35
Scheduled
Frankfurt (FRA)
Lufthansa
LH6965
08:35
Scheduled
Frankfurt (FRA)
Thai Airways
TG7302
08:35
Scheduled
Basel (BSL)
easyJet
U21272
08:35
Scheduled
Munich (MUC)
TAP Air Portugal
TP558 expand_more(7)
08:40
Scheduled
Munich (MUC)
Aegean Airlines
A31751
08:40
Scheduled
Munich (MUC)
Azores Airlines
S48017
08:40
Scheduled
Munich (MUC)
Azul Linhas Aereas
AD7209
08:40
Scheduled
Munich (MUC)
Croatia Airlines
OU5711
08:40
Scheduled
Munich (MUC)
Egyptair
MS9436
08:40
Scheduled
Munich (MUC)
El Al
LY9042
08:40
Scheduled
Munich (MUC)
Lufthansa
LH6951
08:40
Scheduled
Zurich (ZRH)
TAP Air Portugal
TP932 expand_more(7)
08:40
Scheduled
Zurich (ZRH)
Aegean Airlines
A31784
08:40
Scheduled
Zurich (ZRH)
Air Canada
AC2652
08:40
Scheduled
Zurich (ZRH)
Azores Airlines
S48716
08:40
Scheduled
Zurich (ZRH)
Azul Linhas Aereas
AD7239
08:40
Scheduled
Zurich (ZRH)
Croatia Airlines
OU5712
08:40
Scheduled
Zurich (ZRH)
Swiss
LX4581
08:40
Scheduled
Zurich (ZRH)
Thai Airways
TG7314
08:40
Scheduled
Geneva (GVA)
TAP Air Portugal
TP944 expand_more(5)
08:45
Scheduled
Geneva (GVA)
Aegean Airlines
A31741
08:45
Scheduled
Geneva (GVA)
Azores Airlines
S48350
08:45
Scheduled
Geneva (GVA)
Azul Linhas Aereas
AD7342
08:45
Scheduled
Geneva (GVA)
Egyptair
MS9430
08:45
Scheduled
Geneva (GVA)
Swiss
LX4595
08:45
Scheduled
Paris (ORY)
Vueling
VY1984 expand_more(1)
08:45
Scheduled
Paris (ORY)
Iberia
IB5953
08:45
Scheduled
Abu Dhabi (AUH)
Etihad Airways
EY64
08:50
Scheduled
Porto (OPO)
TAP Air Portugal
TP1924 expand_more(4)
08:55
Scheduled
Porto (OPO)
Azores Airlines
S48424
08:55
Scheduled
Porto (OPO)
Azul Linhas Aereas
AD7490
08:55
Scheduled
Porto (OPO)
Lufthansa
LH6964
08:55
Scheduled
Porto (OPO)
United Airlines
UA6895
08:55
Scheduled
Luanda (LAD)
TAAG Angola Airlines
DT651
09:00
Scheduled
Geneva (GVA)
easyJet
U21462
09:00
Scheduled
Sofia (SOF)
TAP Express
TP9736
09:00
Scheduled
Amsterdam (AMS)
TAP Air Portugal
TP674 expand_more(5)
09:05
Scheduled
Amsterdam (AMS)
Azores Airlines
S48114
09:05
Scheduled
Amsterdam (AMS)
Azul Linhas Aereas
AD7514
09:05
Scheduled
Amsterdam (AMS)
Egyptair
MS9428
09:05
Scheduled
Amsterdam (AMS)
Finnair
AY6780
09:05
Scheduled
Amsterdam (AMS)
United Airlines
UA6869
09:05
Scheduled
Praia (RAI)
TAP Air Portugal
TP1545
09:05
Scheduled
Porto Santo (PXO)
TAP Air Portugal
TP1739 expand_more(2)
09:05
Scheduled
Porto Santo (PXO)
Azores Airlines
S48091
09:05
Scheduled
Porto Santo (PXO)
Emirates
EK4784
09:05
Scheduled
Sao Vicente (VXE)
TAP Air Portugal
TP1557 expand_more(2)
09:10
Scheduled
Sao Vicente (VXE)
Emirates
EK4834
09:10
Scheduled
Sao Vicente (VXE)
Turkish Airlines
TK8142
09:10
Scheduled
Barcelona (BCN)
Vueling
VY8461 expand_more(2)
09:10
Scheduled
Barcelona (BCN)
Iberia
IB5691
09:10
Scheduled
Barcelona (BCN)
Qatar Airways
QR3634
09:10
Scheduled
Rome (CIA)
Ryanair
FR1320
09:20
Scheduled
Amsterdam (AMS)
Transavia
HV5954 expand_more(2)
09:20
Scheduled
Amsterdam (AMS)
Delta Air Lines
DL7508
09:20
Scheduled
Amsterdam (AMS)
KLM
KL2674
09:20
Scheduled
Marrakesh (RAK)
TAP Express
TP1456 expand_more(1)
09:20
Scheduled
Marrakesh (RAK)
Azores Airlines
S48309
09:20
Scheduled
Sao Paulo (GRU)
LATAM Airlines
LA8147
09:25
Scheduled
Brasilia (BSB)
TAP Air Portugal
TP59 expand_more(3)
09:25
Scheduled
Brasilia (BSB)
Azul Linhas Aereas
AD7203
09:25
Scheduled
Brasilia (BSB)
Capital Airlines
JD5422
09:25
Scheduled
Brasilia (BSB)
Emirates
EK4802
09:25
Scheduled
Milan (BGY)
Ryanair
FR821
09:35
Scheduled
Paris (ORY)
Transavia
TO7641
09:35
Scheduled
Eindhoven (EIN)
Avion Express
HV6204
09:40
Scheduled
Paris (CDG)
Air France
AF1225 expand_more(2)
09:40
Scheduled
Paris (CDG)
Azores Airlines
S47306
09:40
Scheduled
Paris (CDG)
Delta Air Lines
DL8248
09:40
Scheduled
San Francisco (SFO)
TAP Air Portugal
TP237
09:40
Scheduled
Faro (FAO)
TAP Express
TP1907 expand_more(6)
09:40
Scheduled
Faro (FAO)
Azores Airlines
S48421
09:40
Scheduled
Faro (FAO)
Azul Linhas Aereas
AD7300
09:40
Scheduled
Faro (FAO)
Emirates
EK4790
09:40
Scheduled
Faro (FAO)
Lufthansa
LH6966
09:40
Scheduled
Faro (FAO)
Luxair
LG1979
09:40
Scheduled
Faro (FAO)
United Airlines
UA6874
09:40
Scheduled
Tenerife (TFS)
TAP Express
TP1128 expand_more(2)
09:45
Scheduled
Tenerife (TFS)
Azores Airlines
S48246
09:45
Scheduled
Tenerife (TFS)
Emirates
EK4892
09:45
Scheduled
Edinburgh (EDI)
easyJet
U23322
09:50
Scheduled
Porto (OPO)
TAP Air Portugal
TP1936 expand_more(3)
09:50
Scheduled
Porto (OPO)
Azores Airlines
S48414
09:50
Scheduled
Porto (OPO)
Azul Linhas Aereas
AD7508
09:50
Scheduled
Porto (OPO)
Lufthansa
LH6944
09:50
Scheduled
Funchal (FNC)
TAP Air Portugal
TP1697 expand_more(5)
09:55
Scheduled
Funchal (FNC)
Azores Airlines
S48023
09:55
Scheduled
Funchal (FNC)
Azul Linhas Aereas
AD7280
09:55
Scheduled
Funchal (FNC)
Emirates
EK4783
09:55
Scheduled
Funchal (FNC)
Lufthansa
LH6942
09:55
Scheduled
Funchal (FNC)
United Airlines
UA6861
09:55
Scheduled
Bologna (BLQ)
Ryanair
FR790
09:55
Scheduled
Belo Horizonte (CNF)
TAP Air Portugal
TP103 expand_more(3)
09:55
Scheduled
Belo Horizonte (CNF)
Azul Linhas Aereas
AD7255
09:55
Scheduled
Belo Horizonte (CNF)
Capital Airlines
JD5423
09:55
Scheduled
Belo Horizonte (CNF)
Emirates
EK4804
09:55
Scheduled
Aalborg (AAL)
BRA
TT3801
09:55
Scheduled
Campinas (VCP)
Azul
AD8751 expand_more(1)
10:00
Scheduled
Campinas (VCP)
TAP Air Portugal
TP5001
10:00
Scheduled
New York (JFK)
Delta Air Lines
DL273 expand_more(3)
10:00
Scheduled
New York (JFK)
Air France
AF3564
10:00
Scheduled
New York (JFK)
KLM
KL6098
10:00
Scheduled
New York (JFK)
Virgin Atlantic
VS3898
10:00
Scheduled
London (LHR)
TAP Air Portugal
TP1352 expand_more(8)
10:05
Scheduled
London (LHR)
Aegean Airlines
A31734
10:05
Scheduled
London (LHR)
Air Canada
AC2709
10:05
Scheduled
London (LHR)
Azores Airlines
S48616
10:05
Scheduled
London (LHR)
Azul Linhas Aereas
AD7327
10:05
Scheduled
London (LHR)
Egyptair
MS9438
10:05
Scheduled
London (LHR)
El Al
LY9056
10:05
Scheduled
London (LHR)
Ethiopian Airlines
ET1737
10:05
Scheduled
London (LHR)
United Airlines
UA6865
10:05
Scheduled
Ibiza (IBZ)
TAP Air Portugal
TP1142 expand_more(2)
10:10
Scheduled
Ibiza (IBZ)
Azores Airlines
S48247
10:10
Scheduled
Ibiza (IBZ)
Emirates
EK4854
10:10
Scheduled
Porto Alegre (POA)
TAP Air Portugal
TP117 expand_more(2)
10:15
Scheduled
Porto Alegre (POA)
Azul Linhas Aereas
AD7227
10:15
Scheduled
Porto Alegre (POA)
Emirates
EK4898
10:15
Scheduled
Madrid (MAD)
TAP Air Portugal
TP1028 expand_more(7)
10:20
Scheduled
Madrid (MAD)
Air Canada
AC2682
10:20
Scheduled
Madrid (MAD)
Azores Airlines
S48700
10:20
Scheduled
Madrid (MAD)
Azul Linhas Aereas
AD7318
10:20
Scheduled
Madrid (MAD)
Egyptair
MS9434
10:20
Scheduled
Madrid (MAD)
El Al
LY9024
10:20
Scheduled
Madrid (MAD)
LOT
LO4712
10:20
Scheduled
Madrid (MAD)
United Airlines
UA6850
10:20
Scheduled
New York (EWR)
United Airlines
UA65 expand_more(3)
10:25
Scheduled
New York (EWR)
Air Canada
AC3919
10:25
Scheduled
New York (EWR)
Brussels Airlines
SN9026
10:25
Scheduled
New York (EWR)
Lufthansa
LH7967
10:25
Scheduled
Paris (ORY)
TAP Air Portugal
TP440 expand_more(2)
10:25
Scheduled
Paris (ORY)
Azores Airlines
S48934
10:25
Scheduled
Paris (ORY)
Azul Linhas Aereas
AD7240
10:25
Scheduled
London (LTN)
easyJet
U22460
10:25
Scheduled
Gran Canaria (LPA)
TAP Express
TP1116 expand_more(4)
10:25
Scheduled
Gran Canaria (LPA)
Air Canada
AC2674
10:25
Scheduled
Gran Canaria (LPA)
Azores Airlines
S48195
10:25
Scheduled
Gran Canaria (LPA)
Azul Linhas Aereas
AD7311
10:25
Scheduled
Gran Canaria (LPA)
Emirates
EK4886
10:25
Scheduled
Lyon (LYS)
easyJet
U24426
10:30
Scheduled
Toronto (YYZ)
TAP Air Portugal
TP257
10:40
Scheduled
Miami (MIA)
TAP Air Portugal
TP223
10:40
Scheduled
Milan (MXP)
easyJet
U27669
10:50
Scheduled
Istanbul (IST)
Turkish Airlines
TK1756 expand_more(4)
10:55
Scheduled
Istanbul (IST)
IndiGo
6E4192
10:55
Scheduled
Istanbul (IST)
Malaysia Airlines
MH4328
10:55
Scheduled
Istanbul (IST)
Singapore Airlines
SQ6256
10:55
Scheduled
Istanbul (IST)
TAP Air Portugal
TP6454
10:55
Scheduled
Philadelphia (PHL)
American Airlines
AA259 expand_more(3)
11:05
Scheduled
Philadelphia (PHL)
British Airways
BA1577
11:05
Scheduled
Philadelphia (PHL)
Finnair
AY4150
11:05
Scheduled
Philadelphia (PHL)
Iberia
IB4917
11:05
Scheduled
London (LHR)
British Airways
BA501 expand_more(5)
11:05
Scheduled
London (LHR)
American Airlines
AA6575
11:05
Scheduled
London (LHR)
Cathay Pacific
CX7216
11:05
Scheduled
London (LHR)
Finnair
AY5981
11:05
Scheduled
London (LHR)
Jet Linx Aviation
JL7732
11:05
Scheduled
London (LHR)
Qatar Airways
QR5916
11:05
Scheduled
London (STN)
Ryanair
FR1081
11:10
Scheduled
Lajes (TER)
TAP Air Portugal
TP1827 expand_more(3)
11:15
Scheduled
Lajes (TER)
Air Canada
AC2655
11:15
Scheduled
Lajes (TER)
Azores Airlines
S48827
11:15
Scheduled
Lajes (TER)
Azul Linhas Aereas
AD7453
11:15
Scheduled
Brussels (BRU)
TAP Air Portugal
TP648 expand_more(6)
11:20
Scheduled
Brussels (BRU)
Air Baltic
BT5338
11:20
Scheduled
Brussels (BRU)
Azores Airlines
S48488
11:20
Scheduled
Brussels (BRU)
Brussels Airlines
SN6406
11:20
Scheduled
Brussels (BRU)
Croatia Airlines
OU5713
11:20
Scheduled
Brussels (BRU)
Ethiopian Airlines
ET1730
11:20
Scheduled
Brussels (BRU)
Finnair
AY6798
11:20
Scheduled
Barcelona (BCN)
TAP Express
TP1046 expand_more(6)
11:20
Scheduled
Barcelona (BCN)
Air Canada
AC2679
11:20
Scheduled
Barcelona (BCN)
Azores Airlines
S48710
11:20
Scheduled
Barcelona (BCN)
Azul Linhas Aereas
AD7226
11:20
Scheduled
Barcelona (BCN)
El Al
LY9008
11:20
Scheduled
Barcelona (BCN)
LOT
LO4716
11:20
Scheduled
Barcelona (BCN)
United Airlines
UA6873
11:20
Scheduled
Montreal (YUL)
Air Canada
AC813 expand_more(2)
11:25
Scheduled
Montreal (YUL)
Lufthansa
LH6548
11:25
Scheduled
Montreal (YUL)
United Airlines
UA8089
11:25
Scheduled
Vienna (VIE)
Lauda Europe
FR4166
11:25
Scheduled
Madrid (MAD)
Air Europa
UX1150
11:35
Scheduled
Toronto (YYZ)
Air Transat
TS481 expand_more(1)
11:35
Scheduled
Toronto (YYZ)
Porter Airlines Canada
PD7481
11:35
Scheduled
Funchal (FNC)
Ryanair
FR387
11:35
Scheduled
Amsterdam (AMS)
KLM
KL1694
11:40
Scheduled
Madrid (MAD)
easyJet
U27653
11:45
Scheduled
Boston (BOS)
TAP Air Portugal
TP217
11:45
Scheduled
Washington (IAD)
TAP Air Portugal
TP231
11:55
Scheduled
Faro (FAO)
TAP Express
TP1905
12:00
Scheduled
Frankfurt (FRA)
Lufthansa
LH1167
12:05
Scheduled
Berlin (BER)
TAP Air Portugal
TP530
12:05
Scheduled
Brussels (BRU)
Brussels Airlines
SN3816
12:05
Scheduled
Paris (CDG)
Air France
AF1025
12:10
Scheduled
Copenhagen (CPH)
TAP Air Portugal
TP758
12:10
Scheduled
Sao Paulo (GRU)
TAP Air Portugal
TP89
12:15
Scheduled
Hamburg (HAM)
TAP Express
TP564
12:15
Scheduled
Lajes (TER)
Azores Airlines
S4231
12:20
Scheduled
New York (EWR)
TAP Air Portugal
TP201
12:20
Scheduled
Washington (IAD)
United Airlines
UA943
12:20
Cancelled
Paris (ORY)
TAP Air Portugal
TP442
12:25
Scheduled
Malaga (AGP)
TAP Express
TP1138
12:25
Scheduled
Ponta Delgada (PDL)
Ryanair
FR2623
12:25
Scheduled
Madrid (MAD)
Iberia
IB3109
12:30
Scheduled
Amsterdam (AMS)
TAP Air Portugal
TP676
12:35
Scheduled
Ponta Delgada (PDL)
Azores Airlines
S4123 expand_more(2)
12:35
Scheduled
Ponta Delgada (PDL)
Air France
AF9609
12:35
Scheduled
Ponta Delgada (PDL)
TAP Air Portugal
TP6619
12:35
Scheduled
Luxembourg (LUX)
Luxair
LG3752
12:40
Scheduled
Milan (MXP)
TAP Air Portugal
TP826
12:45
Scheduled
Boston (BOS)
Delta Air Lines
DL125
12:45
Scheduled
Stockholm (ARN)
TAP Air Portugal
TP782
12:50
Scheduled
Dublin (DUB)
Ryanair
FR7137
12:50
Scheduled
Rome (FCO)
TAP Air Portugal
TP836
12:50
Scheduled
Toronto (YYZ)
Air Canada
AC811
12:50
Scheduled
Oslo (OSL)
TAP Air Portugal
TP764
12:50
Scheduled
London (LGW)
TAP Express
TP1336
12:55
Scheduled
Dusseldorf (DUS)
TAP Express
TP546
13:00
Scheduled
Campinas (VCP)
Azul
AD8753
13:00
Scheduled
Seville (SVQ)
TAP Express
TP1102
13:00
Scheduled
Madrid (MAD)
TAP Air Portugal
TP1024
13:05
Scheduled
Cologne (CGN)
Smartwings
EW603
13:05
Scheduled
Luxembourg (LUX)
TAP Air Portugal
TP694
13:20
Scheduled
Geneva (GVA)
easyJet
U27643
13:25
Scheduled
Funchal (FNC)
easyJet
U27625
13:25
Scheduled
Funchal (FNC)
TAP Express
TP1695
13:30
Scheduled
Zurich (ZRH)
TAP Air Portugal
TP926
13:30
Scheduled
Nantes (NTE)
easyJet
U27609
13:40
Scheduled
Cancun (CUN)
TAP Air Portugal
TP277
13:40
Scheduled
Nice (NCE)
easyJet
U27611
13:45
Scheduled
London (LHR)
British Airways
BA529
13:45
Scheduled
Milan (MXP)
easyJet
U23872
13:50
Scheduled
Paris (ORY)
Transavia
TO7659
13:50
Scheduled
Barcelona (BCN)
Vueling
VY8467
13:55
Scheduled
Porto (OPO)
TAP Air Portugal
TP1954
14:00
Scheduled
Nice (NCE)
TAP Express
TP484
14:05
Scheduled
Marseille (MRS)
easyJet
U26729
14:05
Scheduled
Bilbao (BIO)
easyJet
U26709
14:05
Scheduled
Geneva (GVA)
TAP Air Portugal
TP948
14:05
Scheduled
Barcelona (BCN)
TAP Air Portugal
TP1042
14:10
Scheduled
Dubai (DXB)
Emirates
EK192
14:15
Scheduled
Venice (VCE)
TAP Air Portugal
TP862
14:15
Scheduled
Paris (ORY)
Transavia
TO7645
14:15
Scheduled
Munich (MUC)
Lufthansa
LH1779
14:20
Scheduled
Marseille (MRS)
TAP Express
TP402
14:20
Scheduled
Prague (PRG)
TAP Air Portugal
TP1246
14:20
Scheduled
Lyon (LYS)
TAP Express
TP472
14:25
Scheduled
Bilbao (BIO)
TAP Express
TP1062
14:35
Scheduled
Amsterdam (AMS)
TAP Air Portugal
TP672
14:40
Scheduled
Vienna (VIE)
TAP Air Portugal
TP1274
14:40
Scheduled
Geneva (GVA)
Swiss
LX2093
14:45
Scheduled
Madrid (MAD)
TAP Air Portugal
TP1018 expand_more(5)
14:45
Scheduled
Madrid (MAD)
Avianca
AV2497
14:45
Scheduled
Madrid (MAD)
Azores Airlines
S48718
14:45
Scheduled
Madrid (MAD)
Azul Linhas Aereas
AD7359
14:45
Scheduled
Madrid (MAD)
El Al
LY9044
14:45
Scheduled
Madrid (MAD)
Emirates
EK4858
14:45
Scheduled
Marrakesh (RAK)
TAP Express
TP1450 expand_more(3)
14:45
Scheduled
Marrakesh (RAK)
Air Canada
AC2645
14:45
Scheduled
Marrakesh (RAK)
Azores Airlines
S48306
14:45
Scheduled
Marrakesh (RAK)
Emirates
EK4866
14:45
Scheduled
Frankfurt (FRA)
TAP Air Portugal
TP576 expand_more(9)
14:45
Scheduled
Frankfurt (FRA)
Air China
CA7050
14:45
Scheduled
Frankfurt (FRA)
Air India
AI7726
14:45
Scheduled
Frankfurt (FRA)
All Nippon Airways
NH6736
14:45
Scheduled
Frankfurt (FRA)
Azores Airlines
S48764
14:45
Scheduled
Frankfurt (FRA)
Croatia Airlines
OU5717
14:45
Scheduled
Frankfurt (FRA)
Ethiopian Airlines
ET1749
14:45
Scheduled
Frankfurt (FRA)
Lufthansa
LH6953
14:45
Scheduled
Frankfurt (FRA)
Singapore Airlines
SQ2780
14:45
Scheduled
Frankfurt (FRA)
Thai Airways
TG7304
14:45
Scheduled
Casablanca (CMN)
TAP Express
TP1436 expand_more(3)
14:50
Scheduled
Casablanca (CMN)
Air Canada
AC2649
14:50
Scheduled
Casablanca (CMN)
Azores Airlines
S48302
14:50
Scheduled
Casablanca (CMN)
Emirates
EK4864
14:50
Scheduled
Tel Aviv (TLV)
TAP Air Portugal
TP1603 expand_more(1)
15:00
Scheduled
Tel Aviv (TLV)
El Al
LY9110
15:00
Scheduled
Valencia (VLC)
TAP Express
TP1092 expand_more(4)
15:05
Scheduled
Valencia (VLC)
Air Canada
AC2673
15:05
Scheduled
Valencia (VLC)
Azores Airlines
S48732
15:05
Scheduled
Valencia (VLC)
Azul Linhas Aereas
AD7351
15:05
Scheduled
Valencia (VLC)
Emirates
EK4896
15:05
Scheduled
London (LHR)
TAP Air Portugal
TP1350 expand_more(9)
15:05
Scheduled
London (LHR)
Air China
CA7051
15:05
Scheduled
London (LHR)
Air India
AI7910
15:05
Scheduled
London (LHR)
All Nippon Airways
NH6732
15:05
Scheduled
London (LHR)
Avianca
AV2493
15:05
Scheduled
London (LHR)
Azores Airlines
S48250
15:05
Scheduled
London (LHR)
Azul Linhas Aereas
AD7470
15:05
Scheduled
London (LHR)
Egyptair
MS9437
15:05
Scheduled
London (LHR)
Ethiopian Airlines
ET1747
15:05
Scheduled
London (LHR)
United Airlines
UA6894
15:05
Scheduled
Munich (MUC)
TAP Air Portugal
TP554 expand_more(5)
15:05
Scheduled
Munich (MUC)
Aegean Airlines
A31744
15:05
Scheduled
Munich (MUC)
Azores Airlines
S48774
15:05
Scheduled
Munich (MUC)
Azul Linhas Aereas
AD7221
15:05
Scheduled
Munich (MUC)
Croatia Airlines
OU5729
15:05
Scheduled
Munich (MUC)
Lufthansa
LH6967
15:05
Scheduled
Paris (BVA)
Ryanair
FR1083
15:10
Scheduled
Toulouse (TLS)
TAP Air Portugal
TP496
15:10
Scheduled
Rome (FCO)
TAP Air Portugal
TP842
15:30
Scheduled
Paris (ORY)
TAP Air Portugal
TP432
15:30
Scheduled
Amsterdam (AMS)
KLM
KL1696
15:35
Scheduled
Zurich (ZRH)
Swiss
LX2085
15:35
Scheduled
London (LTN)
easyJet
U22462
15:45
Scheduled
Milan (MXP)
TAP Air Portugal
TP824
15:55
Scheduled
Paris (CDG)
Air France
AF1625
15:55
Scheduled
Lajes (TER)
Swiftair
WT132
16:00
Scheduled
Porto (OPO)
TAP Express
TP1960
16:00
Scheduled
Madrid (MAD)
Air Europa
UX1156
16:05
Scheduled
London (LHR)
TAP Air Portugal
TP1364
16:10
Scheduled
Dublin (DUB)
TAP Express
TP1324
16:10
Scheduled
Brussels (BRU)
TAP Air Portugal
TP644
16:15
Scheduled
Riga (RIX)
Air Baltic
BT676
16:15
Scheduled
Bilbao (BIO)
Vueling
VY2701
16:25
Scheduled
Frankfurt (FRA)
Lufthansa
LH1169
16:25
Scheduled
Istanbul (IST)
Turkish Airlines
TK1760
16:25
Scheduled
Barcelona (BCN)
TAP Air Portugal
TP1036 expand_more(1)
16:30
Scheduled
Barcelona (BCN)
Azores Airlines
S48706
16:30
Scheduled
Malaga (AGP)
Ryanair
FR3682
16:30
Scheduled
Helsinki (HEL)
Finnair
AY1740 expand_more(2)
16:35
Scheduled
Helsinki (HEL)
Jet Linx Aviation
JL6900
16:35
Scheduled
Helsinki (HEL)
TAP Air Portugal
TP8355
16:35
Scheduled
London (LHR)
British Airways
BA519 expand_more(1)
16:35
Scheduled
London (LHR)
Qatar Airways
QR9760
16:35
Scheduled
Faro (FAO)
TAP Air Portugal
TP1903 expand_more(7)
16:35
Scheduled
Faro (FAO)
Air Baltic
BT5344
16:35
Scheduled
Faro (FAO)
Air Canada
AC2654
16:35
Scheduled
Faro (FAO)
Azores Airlines
S48443
16:35
Scheduled
Faro (FAO)
Azul Linhas Aereas
AD7286
16:35
Scheduled
Faro (FAO)
Emirates
EK4785
16:35
Scheduled
Faro (FAO)
Lufthansa
LH6936
16:35
Scheduled
Faro (FAO)
Turkish Airlines
TK8140
16:35
Scheduled
Paris (ORY)
Transavia
TO7647
16:40
Scheduled
Madrid (MAD)
Iberia
IB3103 expand_more(3)
16:45
Scheduled
Madrid (MAD)
LATAM Airlines
LA1531
16:45
Scheduled
Madrid (MAD)
Qatar Airways
QR6544
16:45
Scheduled
Madrid (MAD)
Vueling
VY5065
16:45
Scheduled
Paris (ORY)
TAP Air Portugal
TP438 expand_more(2)
16:50
Scheduled
Paris (ORY)
Azores Airlines
S48922
16:50
Scheduled
Paris (ORY)
Azul Linhas Aereas
AD7503
16:50
Scheduled
Salvador (SSA)
TAP Air Portugal
TP23 expand_more(3)
16:50
Scheduled
Salvador (SSA)
Azul Linhas Aereas
AD7231
16:50
Scheduled
Salvador (SSA)
Capital Airlines
JD5436
16:50
Scheduled
Salvador (SSA)
Emirates
EK4830
16:50
Scheduled
Bristol (BRS)
easyJet
U22868
16:50
Scheduled
Funchal (FNC)
TAP Air Portugal
TP1687 expand_more(6)
16:50
Scheduled
Funchal (FNC)
Air Baltic
BT5308
16:50
Scheduled
Funchal (FNC)
Azores Airlines
S48087
16:50
Scheduled
Funchal (FNC)
Azul Linhas Aereas
AD7355
16:50
Scheduled
Funchal (FNC)
Lufthansa
LH6938
16:50
Scheduled
Funchal (FNC)
Turkish Airlines
TK8102
16:50
Scheduled
Funchal (FNC)
United Airlines
UA6860
16:50
Scheduled
Rome (CIA)
Ryanair
FR2097
16:55
Scheduled
London (LGW)
easyJet
U28514
16:55
Scheduled
Kassel (KSF)
Air Alliance
UNI116
17:00
Scheduled
Madrid (MAD)
TAP Express
TP1020 expand_more(2)
17:00
Scheduled
Madrid (MAD)
Azores Airlines
S48033
17:00
Scheduled
Madrid (MAD)
Azul Linhas Aereas
AD7284
17:00
Scheduled
Ponta Delgada (PDL)
TAP Air Portugal
TP1863 expand_more(6)
17:05
Scheduled
Ponta Delgada (PDL)
Air Baltic
BT5267
17:05
Scheduled
Ponta Delgada (PDL)
Air Canada
AC2690
17:05
Scheduled
Ponta Delgada (PDL)
Azores Airlines
S48273
17:05
Scheduled
Ponta Delgada (PDL)
Azul Linhas Aereas
AD7459
17:05
Scheduled
Ponta Delgada (PDL)
Emirates
EK4822
17:05
Scheduled
Ponta Delgada (PDL)
Lufthansa
LH6982
17:05
Scheduled
Belem (BEL)
TAP Air Portugal
TP47 expand_more(2)
17:10
Scheduled
Belem (BEL)
Azul Linhas Aereas
AD7273
17:10
Scheduled
Belem (BEL)
Emirates
EK4800
17:10
Scheduled
New York (JFK)
TAP Air Portugal
TP209 expand_more(1)
17:10
Scheduled
New York (JFK)
Emirates
EK4838
17:10
Scheduled
Recife (REC)
TAP Air Portugal
TP11 expand_more(4)
17:10
Scheduled
Recife (REC)
Azul Linhas Aereas
AD7229
17:10
Scheduled
Recife (REC)
Capital Airlines
JD5438
17:10
Scheduled
Recife (REC)
El Al
LY9094
17:10
Scheduled
Recife (REC)
Emirates
EK4826
17:10
Scheduled
Espargos (SID)
Cabo Verde Airlines
VR601
17:15
Scheduled
Milan (MXP)
easyJet
U27673
17:15
Scheduled
Ponta Delgada (PDL)
Ryanair
FR2625
17:15
Scheduled
Natal (NAT)
TAP Air Portugal
TP9
17:15
Scheduled
Athens (ATH)
Aegean Airlines
A3721
17:20
Scheduled
Fortaleza (FOR)
TAP Air Portugal
TP35 expand_more(2)
17:25
Scheduled
Fortaleza (FOR)
Azul Linhas Aereas
AD7277
17:25
Scheduled
Fortaleza (FOR)
Capital Airlines
JD5425
17:25
Scheduled
Boston (BOS)
TAP Air Portugal
TP215
17:25
Scheduled
Amsterdam (AMS)
Vueling
VY8436 expand_more(1)
17:35
Scheduled
Amsterdam (AMS)
Iberia
IB5689
17:35
Scheduled
Marseille (MRS)
Ryanair
FR2077
17:35
Scheduled
Paris (BVA)
easyJet
U26713
17:40
Scheduled
Barcelona (BCN)
Ryanair
FR3079
17:45
Scheduled
Sofia (SOF)
Fly2Sky
TP9734
17:50
Scheduled
Hamburg (HAM)
TAP Express
TP566
17:50
Scheduled
Porto (OPO)
TAP Air Portugal
TP1920 expand_more(8)
17:55
Scheduled
Porto (OPO)
Air Baltic
BT5360
17:55
Scheduled
Porto (OPO)
Azores Airlines
S48320
17:55
Scheduled
Porto (OPO)
Azul Linhas Aereas
AD7275
17:55
Scheduled
Porto (OPO)
Emirates
EK4795
17:55
Scheduled
Porto (OPO)
Finnair
AY6796
17:55
Scheduled
Porto (OPO)
LOT
LO4771
17:55
Scheduled
Porto (OPO)
Lufthansa
LH6960
17:55
Scheduled
Porto (OPO)
SAS
SK8940
17:55
Scheduled
Warsaw (WAW)
Wizz Air
W61592
17:55
Scheduled
Berlin (BER)
TAP Air Portugal
TP532
17:55
Scheduled
Lajes (TER)
Ryanair
FR6066
18:00
Scheduled
Bordeaux (BOD)
easyJet
U27605
18:00
Scheduled
Dusseldorf (DUS)
Eurowings
EW9603
18:00
Scheduled
Paris (ORY)
TAP Air Portugal
TP448
18:15
Scheduled
Frankfurt (FRA)
TAP Air Portugal
TP572
18:15
Scheduled
Amsterdam (AMS)
TAP Air Portugal
TP668
18:20
Scheduled
London (STN)
Ryanair
FR1883
18:25
Scheduled
New York (EWR)
TAP Air Portugal
TP207
18:30
Scheduled
Casablanca (CMN)
Royal Air Maroc
AT983
18:40
Scheduled
Dusseldorf (DUS)
TAP Air Portugal
TP544
18:40
Scheduled
Zurich (ZRH)
TAP Air Portugal
TP928
18:45
Scheduled
London (LHR)
British Airways
BA503
18:45
Scheduled
Paris (CDG)
Air France
AF1195
18:50
Scheduled
Funchal (FNC)
easyJet
U27627
18:55
Scheduled
London (LTN)
easyJet
U22464
18:55
Scheduled
Barcelona (BCN)
easyJet
U26701
18:55
Scheduled
Barcelona (BCN)
TAP Express
TP1038
19:00
Scheduled
Vienna (VIE)
Air Hamburg
AHO738
19:00
Scheduled
Paris (ORY)
Vueling
VY1982
19:05
Scheduled
Paris (ORY)
Transavia France
TO7649
19:05
Scheduled
Madrid (MAD)
TAP Air Portugal
TP1014
19:05
Scheduled
Funchal (FNC)
TAP Air Portugal
TP1689
19:10
Scheduled
Brussels (CRL)
Ryanair
FR3609
19:10
Scheduled
Maputo (MPM)
TAP Air Portugal
TP283
19:15
Scheduled
Porto (OPO)
Maersk Air Cargo
DJ6645
19:15
Scheduled
Tenerife (TFN)
Vueling
VY3107
19:20
Scheduled
London (LHR)
TAP Air Portugal
TP1358
19:20
Scheduled
Ponta Delgada (PDL)
Azores Airlines
S4127
19:25
Scheduled
Paris (CDG)
easyJet
U24594
19:25
Scheduled
Porto (OPO)
TAP Air Portugal
TP1970
19:30
Scheduled
Amsterdam (AMS)
KLM
KL1678
19:30
Scheduled
Munich (MUC)
TAP Air Portugal
TP552
19:30
Scheduled
Paris (ORY)
TAP Air Portugal
TP446
19:35
Scheduled
Geneva (GVA)
TAP Air Portugal
TP946
19:50
Scheduled
Brussels (BRU)
TAP Air Portugal
TP642
19:50
Scheduled
Belgrade (BEG)
Wizz Air
W64128
19:55
Scheduled
Brussels (BRU)
Brussels Airlines
SN3820
19:55
Scheduled
Valencia (VLC)
easyJet
U26745
20:00
Scheduled
Nantes (NTE)
Transavia France
TO7821
20:00
Scheduled
Madrid (MAD)
easyJet
U26723
20:05
Scheduled
Bordeaux (BOD)
Ryanair
FR2180
20:10
Scheduled
Madrid (MAD)
Air Europa
UX1160
20:15
Scheduled
Rome (FCO)
TAP Air Portugal
TP838
20:15
Scheduled
Manchester (MAN)
TAP Air Portugal
TP1312
20:15
Scheduled
Bilbao (BIO)
TAP Express
TP1064
20:15
Scheduled
London (LHR)
TAP Air Portugal
TP1366
20:15
Scheduled
Edinburgh (EDI)
Ryanair
FR6460
20:30
Scheduled
Malaga (AGP)
TAP Express
TP1136
20:40
Scheduled
Madrid (MAD)
Iberia
IB3105
20:45
Scheduled
London (LGW)
easyJet
U28518
20:50
Scheduled
Toulouse (TLS)
Ryanair
FR1798
20:50
Scheduled
Milan (MXP)
TAP Air Portugal
TP828
20:55
Scheduled
Dakar (DSS)
TAP Air Portugal
TP1485
21:00
Scheduled
Espargos (SID)
TAP Air Portugal
TP1549
21:05
Scheduled
Palma de Mallorca (PMI)
Vueling
VY3437
21:05
Scheduled
Dubai (DXB)
Emirates
EK194
21:15
Scheduled
London (STN)
Ryanair
FR1885
21:20
Scheduled
Tel Aviv (TLV)
Neos
NO9070
21:20
Scheduled
Porto (OPO)
TAP Air Portugal
TP1932
21:30
Scheduled
Dublin (DUB)
Ryanair
FR7329
21:35
Scheduled
Lajes (TER)
TAP Air Portugal
TP1823
21:40
Scheduled
Madrid (MAD)
TAP Air Portugal
TP1022
22:00
Scheduled
Barcelona (BCN)
Vueling
VY8465
22:00
Scheduled
Birmingham (BHX)
Ryanair
FR3704
22:10
Scheduled
Dublin (DUB)
Aer Lingus
EI487
22:15
Scheduled
Funchal (FNC)
TAP Air Portugal
TP1691
22:15
Scheduled
Seville (SVQ)
TAP Air Portugal
TP1104
22:20
Scheduled
Ponta Delgada (PDL)
TAP Air Portugal
TP1865
22:20
Scheduled
Tel Aviv (TLV)
El Al
LY376
22:25
Scheduled
London (LTN)
Wizz Air UK
W94494
22:35
Scheduled
Barcelona (BCN)
TAP Air Portugal
TP1032
22:40
Scheduled
Luanda (LAD)
TAAG Angola Airlines
DT653
23:00
Scheduled
Tel Aviv (TLV)
Israir Airlines
6H192
23:00
Scheduled
Belgrade (BEG)
AirSERBIA
JU495
23:05
Scheduled
Faro (FAO)
TAP Air Portugal
TP1909
23:05
Scheduled
Funchal (FNC)
TAP Air Portugal
TP1693
23:25
Scheduled
Rio de Janeiro (GIG)
TAP Air Portugal
TP75
23:30
Scheduled
Porto (OPO)
TAP Air Portugal
TP1928
23:30
Scheduled
Luanda (LAD)
TAP Air Portugal
TP289
23:35
Scheduled
Sao Paulo (GRU)
TAP Air Portugal
TP87
23:35
Scheduled
Flying To and From Lisbon Airport
This page provides information about the destinations that can be reached via Lisbon Airport.
Was your flight delayed or cancelled?
You may be eligible to receive up to 600 EUR compensation per person in your party..
Claim Now!
Beat the Queues
Don't stand sweating for 45 mins waiting for Security. Get a fast track and get through in 5 mins or less.
Book now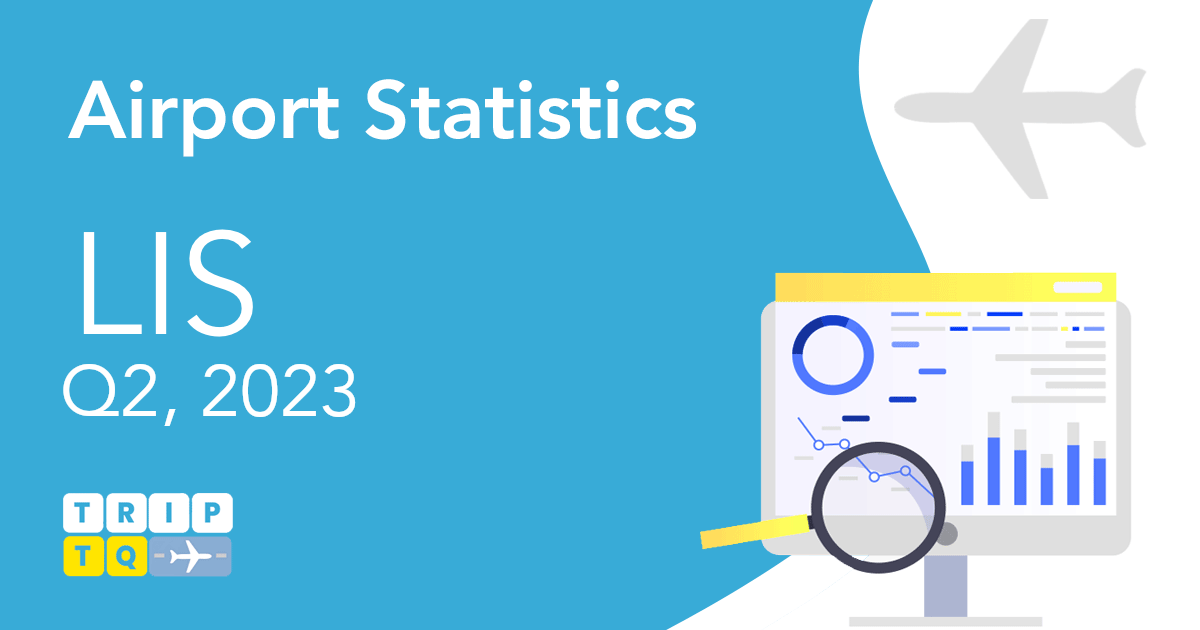 There has been a remarkable surge in passenger numbers in Q2 at Lisbon Airport, with an impressive 15% year-over-year increase. Furthermore, comparing these numbers to the pre-pandemic period in 2019, we see a significant rise of nearly 5%.